January 18, 2020, at 01:00 PM
Center for Plant-based Living
GIVE BACK SESSIONS - A monthy give back to the communty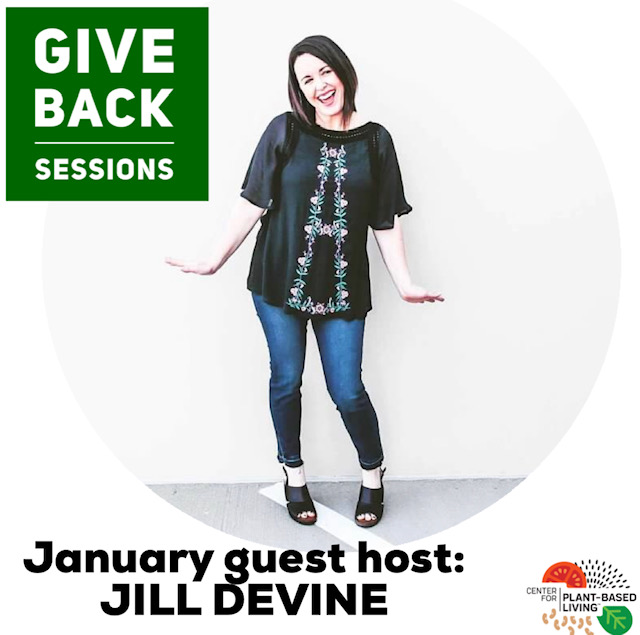 Every month we will invite a local celeb, chef or just really cool person in to share their plant-based recipes, cook up a little something or just chat with us on how they like to add more plants to their plates. We also invite them to share with us what they are up to in their personal / professional lives.
When you register to join us, all the proceeds from the Give Back Sessions goes directly to the charity of the guest host's choosing. This month, with your help, we will donate to Jill's favorite organization, Annie's Hope.
In Jill's class we will talk about your picky eaters and how to get nutrient dense foods into your little ones in this rush rush world.
We'll make this for you to taste:
Dylan Dryer's Minestrone
Spaghetti and "Meat"balls
Blueberry and Walnut Mini Muffins

About Jill—>
A St. Louis native (she went to Francis Howell High School), Jill Devine is best known for being a radio personality. She spent 21 years on the St. Louis airwaves at a variety of radio stations. 
Jill is married to Brian and they have two daughters, Louise "Lu" (3) and Charlotte "Charli" (1) - yes, they like nicknames that happen to be boy names!  Once Jill became a mom, she started noticing things about being a working mom ... things no one was talking about. It led her to create and host her own podcast, "Two Kids and A Career" (found wherever you get your podcast audio, iTunes, Google Play, etc.). The podcast is an outlet to escape the stresses of everyday life, while also tackling tough conversations most are afraid to have.  The conversations are real, raw, emotional, and knowledgeable. 
Jill loves supporting local businesses, as well as giving back to the community. Through her radio career, Jill was introduced to a number of charitable organizations she was unfamiliar with. It was one of her favorite things about her career. One of those organizations was Annie's Hope. Their mission:
Providing comprehensive support services for children, teens and their families who are grieving a death. 
Experiencing a death at any age is difficult, but losing a loved one at a critical time in one's life, such as losing a parent at a young age, is something Jill has fortunately not experienced.  The services Annie's Hope provides for those grieving at a critical age has opened Jill's eyes to the number of ways one can cope with loss and seek the positive side of loss.
Here is the The Show Me St. Louis Segment featuring Jill's Give Back Session.
Was this event as much fun for you as it was for me?
Leave a Reply