Air Fried Hummus Stuffed Jalapeno Poppers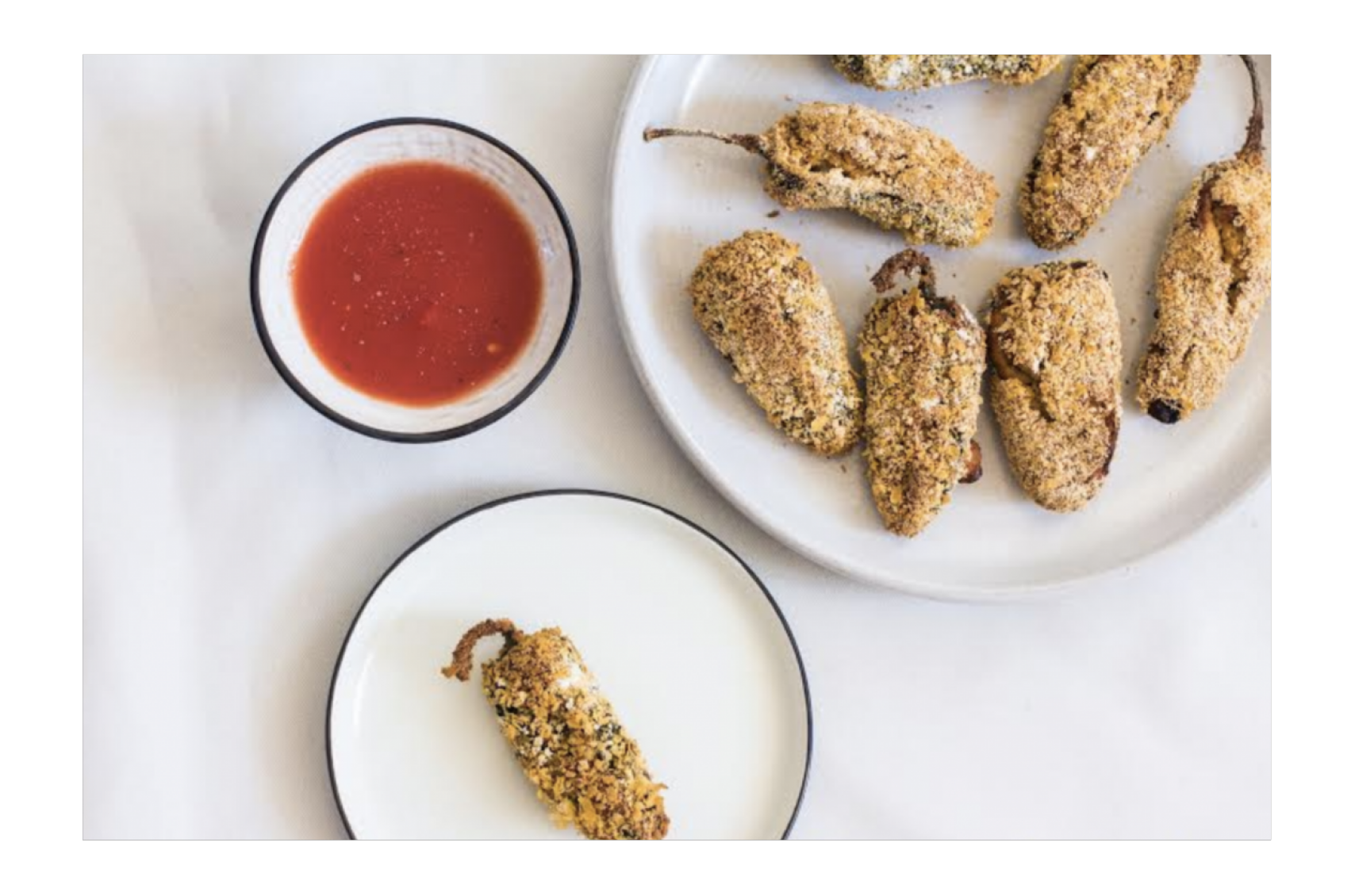 Incorporating one of my very first recipes (Clean Slate Hummus), I have recreated cheesy jalapeno poppers and made a much healthier and super tasty version. 
Ingredients
Setup
1 recipe of Clean Slate Hummus (reserve the juice from the can of beans (aquafaba))
10 jalapenos
1 cup of flour of your choosing (I like oat, whole wheat or spelt)
1 cup panko breadcrumbs
1/4 cup Nutritional yeast
Smoked paprika
Directions
Make your hummus and allow to chill in fridge so that it can thicken a little.

Cut jalapenos in half (lengthwise) and remove seeds.
You'll need three cereal-size bowls. In one, mix the panko and nutritional yeast. In another, the flour and the third, the aquafaba.

Scoop hummus into jalapenos and dip them into the aquafaba. You only need to dip the jalapeno part into the liquid. Next, dip in flour, then back again to the aqufaba and finally in the breadcrumb bowl. Sprinkle additional breadcrumbs on top and sprinkle with smoked paprika, and place in air fryer.
Air fry for 10 minutes at 400. You're looking for the poppers to begin to turn golden brown. Start watching them at the 9-minute mark, it could take up to 13 minutes, depending upon your fryer.
NOTES:
Fill your jalapenos with any flavor hummus! Either make or purchase a few different flavors and mix it up. The seasoning can also be fun to play with. Swap out paprika for oregano and include a marinara dipping sauce for an Italian flair!
Peppers last 5-7 days in the refrigerator in a sealed container.
Makes 20 poppers!
_____________________

Some things happening at the Center for Plant-based Living:
1. You'll love our virtual membership: https://www.cpbl-stl.com/joinmembership
2. Check out our latest classes: https://www.cpbl-stl.com/classes
3. To purchase some of the kitchen tools I use https://tinyurl.com/yyacj2cg
4. To subscribe to the weekly Plant-based Quick Cooking Show (7 ingredients or less every week!): https://www.youtube.com/channel/UCExWwoBh6fvdOgghkjh0U1A?
5. Book a Private Event! We do both virtual and in-person events! Email us.
Thank you for your continued support!
How did this recipe work out?
Leave a Reply