Braised Arugula and Chickpeas with Caramelized Onions and Leek Wrap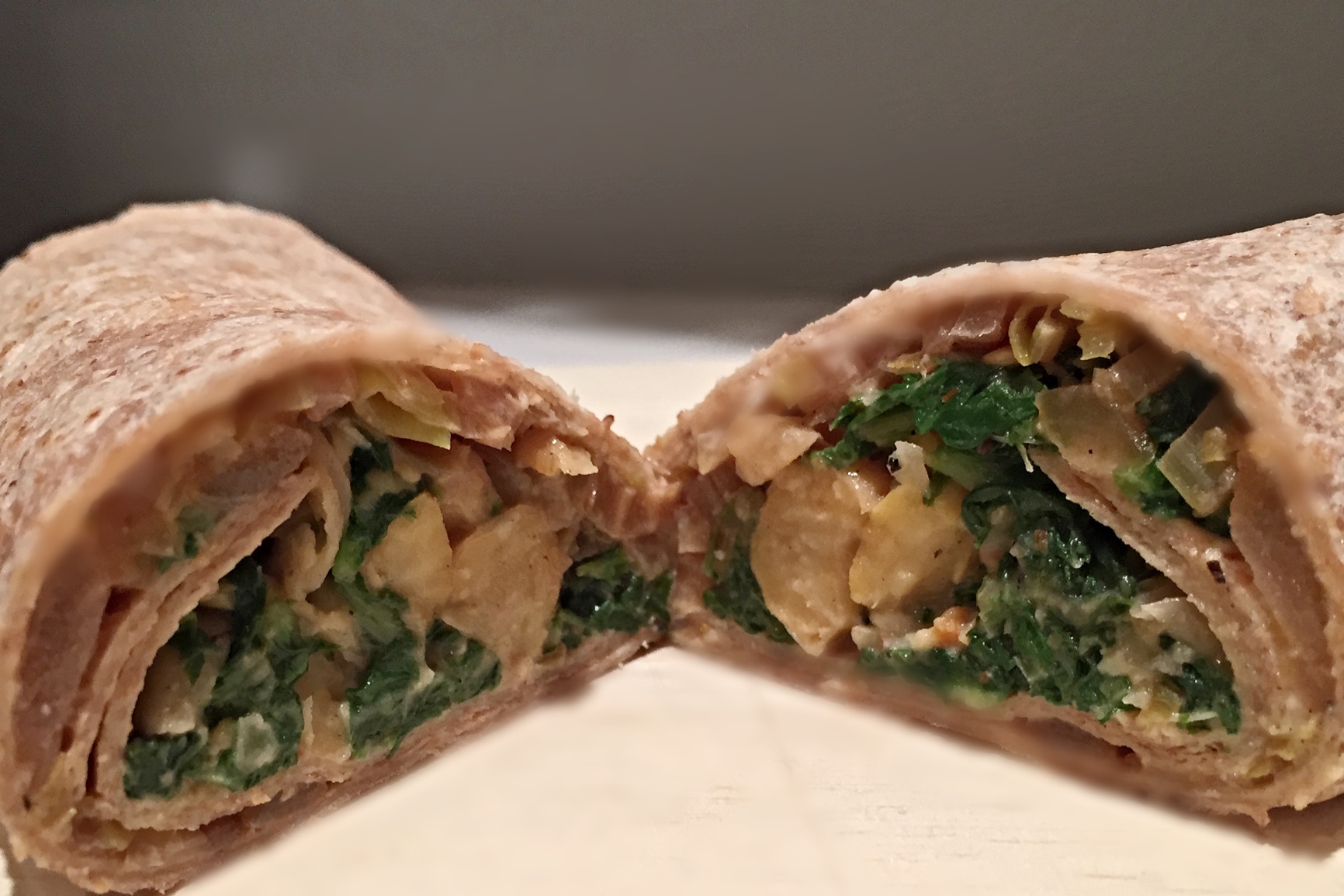 A little sweet, a little heat, this wrap gives you the greens and beans your body craves. 
Ingredients
Setup
1/2 C + 1/4 C vegetable broth
1 yellow onion, sliced into thin half moons and then roughly chopped
1 leek, sliced into thin moons
2 cloves of garlic, minced
1 jalapeno pepper, seeded and diced small
1 bunch of arugula, washed and roughly chopped
1 14 oz can chickpeas
1.5 tsp Italian seasoning
sea salt to taste
2 tsp vegan mayo
3 10" tortillas of choice
Directions
Heat up a small skillet (I prefer a cast iron skillet for this) and pour in 1/4 C broth.  Begin to saute the onion and leek, once they begin to sizzle, bring the heat down a bit.  Keep stirring often and add the remaining 1/4 C broth as it becomes dry.  The mixture will caramelize in about 10 minutes, set aside when done.
Heat a separate larger skillet and pour in 1/4 C broth.  Once sizzling, add in the garlic and the jalapeno pepper.  After about a minute, add in the arugula, mix well and add in the chickpeas along with their juices.  Season with Italian seasoning and sea salt.  Stir often.  After about 15 minutes, the liquid will have evaporated, the greens will be wilted and the chickpeas will be heated through.  Take the mixture off the heat and mash with a potato masher, leaving some of the beans intact. 
Spread some vegan mayo down the middle of a tortilla, top that with one-third of the caramelized onions and one-third of the chickpea mixture.  Roll and devour.
How did this recipe work out?
Leave a Reply