Candy Apple Three Ways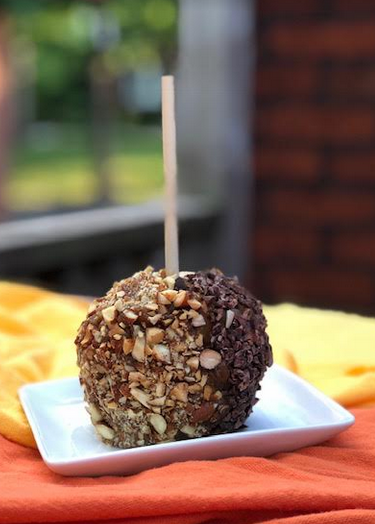 I bore easily, that's why I created this super nutritious version of the traditional candy apple with three different coatings. Enjoy!
Ingredients
Setup
16-18 dates, pitted*
1/4 cup hot water
3/4 cup natural, creamy peanut butter (make sure the only ingredient is peanuts)
2 teaspoons vanilla
1 teaspoon pumpkin pie spice (or to taste, optional)
2 cups cashews, chopped nearly to crumbles
2 cups spiced almonds**, chopped nearly to crumbles
1 cup cacao nibs
5 apples, washed
5 speared lollipop sticks
wax or parchment paper
Directions
Pour the cashews, almonds and cacao on to three separate plates and set aside.
Line a tray or large plate with wax paper and set aside.
Stick the wooden sticks in to the top of the apples and set aside.
In a food processor, add the dates and drizzle in the water as it it running. You'll have to stop a few times to scrape the sides down. You are looking for the beginning of a paste. Add it the peanut butter, vanilla and pumpkin pie spice (if using). It may become very thick. If it begins to ball up, drizzle in a little water while the machine is running and you'll start to get a paste or a thick syrup. Transfer this to a sauce pan and heat up over low heat. Once thoroughly heated, scoop up some of the mixture up with a spatula ( I think a mini spatula works best) and smooth it on to the apple. It will look messy and some spots will be thicker than others and this is just fine. 
Roll 1/3 of the apple in the almonds and press to set with your hand. You'll probably need to fill in a little piece, by piece. Do the same with the cashews and again with the cacao. Place the apple on the wax paper and place in the refrigerator for at least an hour.
Wrap these suckers up in a little cellophane bag, topped with a bow and they make a great Halloween party gift!
*Alternatively you could use 1/2 cup maple syrup or other liquid sweetener.
**I found some almonds in the bulk aisle of my grocery store that were spiced with sriracha and I thought a little heat might be fun. You can use flavored almonds or regular.
How did this recipe work out?
Leave a Reply