Comfy Broccoli Chickpea Casserole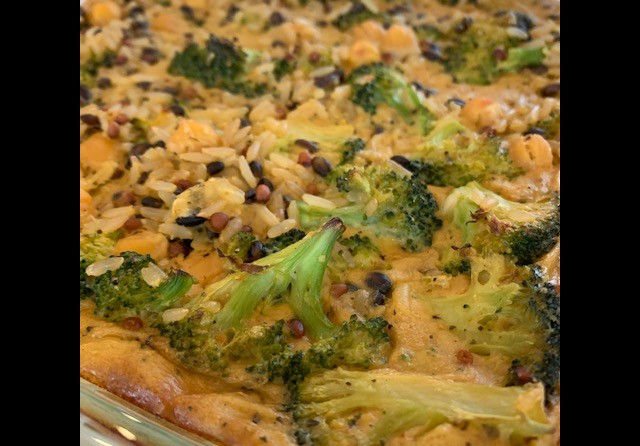 In a delicious cheesy-sauce this hearty broccoli and chickpea casserole is the perfect one dish meal covering all your family's nutritional needs.
Ingredients
Setup
CASSEROLE
1 1/2 cups brown rice, soaked in hot water for 1 hour
1 head of broccoli, cut to bite sized pieces
14 ounces (one can) cooked chickpeas, drained and rinsed
1 tablespoon dried oregano
fresh ground pepper
SAUCE
2 1/2 cups unsweetened almond milk
1/2 cup old fashioned oats
1/3 nutritional yeast
1/3 cups raw, unsalted cashews
1 tablespoon arrowroot powder
1/2 tablespoon smoked paprika
1 teaspoon mustard powder
1 teaspoon onion powder
1/2 teaspoon garlic powder
1/2 teaspoon turmeric powder
pinch of salt
Directions
Soak the rice in hot water for 1 hour.
Preheat your oven to 400-F.
Steam the broccoli for 4-5 minutes, until barely fork tender, transfer to a mixing bowl.
To a high speed blender* add the sauce ingredients and blend until creamy; about 3 minutes. Transfer to a sauce pan and over medium-high heat, stir continually for 7-8 minutes, or until it thickens up a bit. You are looking for the sauce to become creamy and not so liquid-y as when it came out of the blender. Add the sauce to the broccoli bowl along with the chickpeas, drained rice, oregano and a few twists of freshly ground pepper.
Add the mixture to an 8 x 8 baking dish, cover and cook for 30 minutes. Uncover and cook for a remaining 8-10 minutes, or until crusty on top.
Serves 8
*If you don't have a high speed blender, soak the cashews for 2-3 hours, drain and use.
How did this recipe work out?
Leave a Reply