Crunchy Pumpkin with Dilled Sour Cream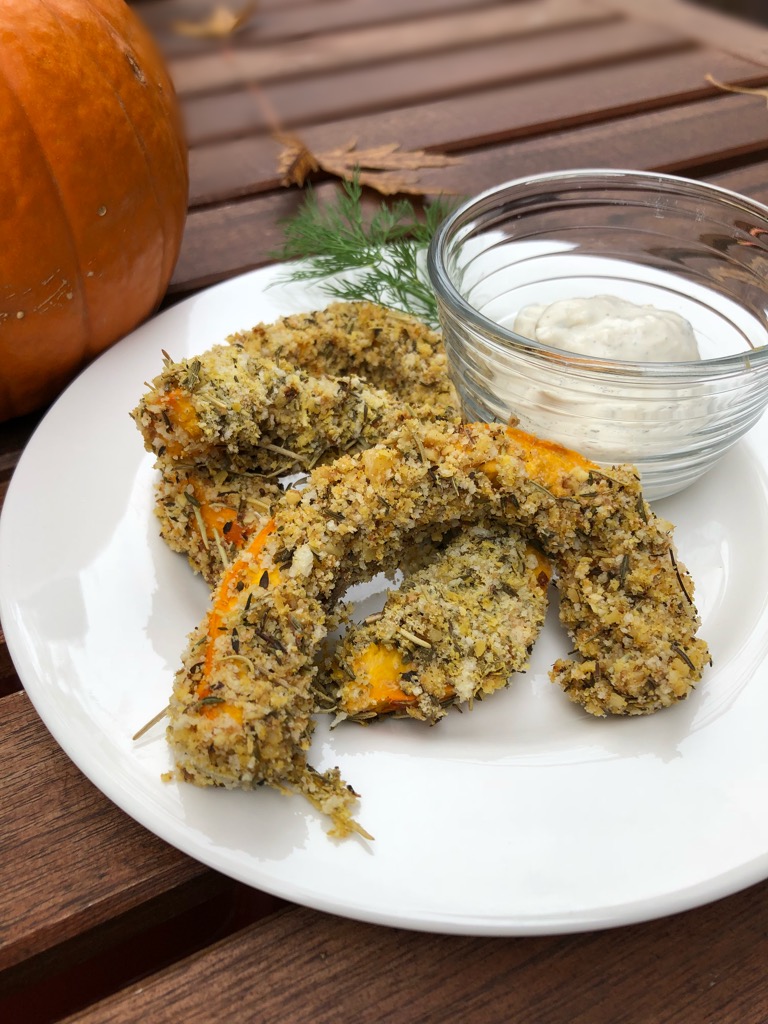 This makes a great Thanksgiving appetizer when people come flooding into your home and are ready to eat! Set this in the living room to keep them out of the kitchen so that you can finish up. This is also a winner for the kiddos, what little one doesn't like finger food?
Ingredients
Setup
Parmesan
1 cup walnuts
2 tablespoons nutritional yeast
1 teaspoon salt
Breading
3/4 cup whole wheat bread crumbs
1 tablespoon each of dried: thyme, rosemary, oregano
1/2 tablespoon flax meal
2 teaspoons of dried basil
1 teaspoon dill
All the rest
2 14 ounce cans of sodium free chickpeas (reserved water only - this is also called aqufaba)
1 3-4 pound pumpkin
sour cream + 1 tablespoon dried dill (after making the sour cream, whisk in the dill)
Directions
Pre-heat your oven to 350 degrees F. Line a baking sheet with parchment paper.
Add all Parmesan ingredients to a blender and blend until coarse. Transfer to a mixing bowl and add the breading ingredients. Set aside.
Next, drain the reserved water from the canned chickpeas and set aside. Store the chickpeas for another time.
Cut the pumpkin in half, scoop out all the seeds and pulp, peel off the skin (optional) and cut into 3/4" pieces. This video may help.
Dunk each pumpkin piece into the aquafaba, then into the parm/breading mixture and place on baking sheet. Bake for 37-40 minutes or until the breadcrumbs begin to brown. Test doneness with a fork, the pumpkin should be soft.
Serve immediately with the sour cream.
How did this recipe work out?
Leave a Reply