Dark Chocolate Glitter Truffle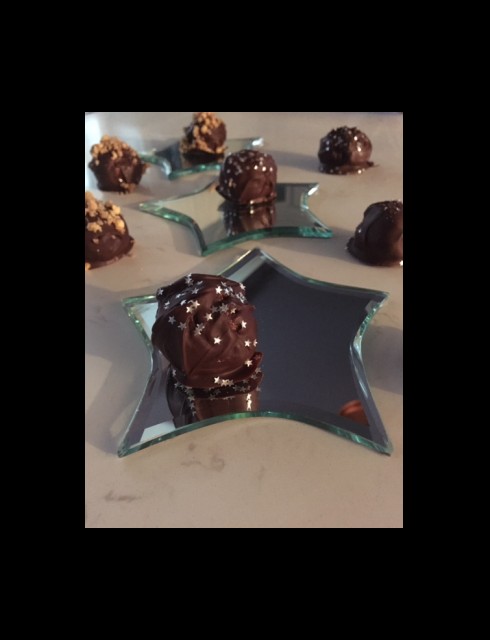 Chocolate - truffles - glitter - stars... Are you smiling yet? Perfect for any holiday party table, great at New Years, the ideal hostess and neighbor gift, these little tokens of deliciousness will make both taste buds and hearts sing with delight this holiday season!
Ingredients
Setup
1 10 oz package of dairy-free dark chocolate chips
1 16 oz jar of any crunchy nut butter (or sunflower seed butter for nut-free)*
1/4 cup maple syrup
2-3 tablespoons almond flour
1 teaspoon sea salt
walnuts, diced small for garnish (optional)
truffle salt for garnish (optional)
edible glitter for garnish (I used stars) (optional)
baking sheet lined with parchment paper
Directions
Begin by using a double boiler or creating one by snugly fitting a heat-proof bowl over a pot of slow boiling water (don't allow the water to touch the bottom of the bowl) and pour the chocolate chips into bowl. Stir often. When the chips are about 90% melted, turn off the heat and stir until smooth.

Stir the nut butter well in the jar and then transfer to a large mixing bowl. Add in one-half of the maple syrup and continue to stir. If it it becoming too thick add the rest of the syrup and stir again. Add in the almond flour and salt - stir well. If at anytime it becomes too crumbly (which means it is too dry), add in a little more syrup. If it's not sticking together (too wet), add in more flour. You want the mix to hold together well when you take a handful and give it a good squeeze.

Pick off about an inch of the mix and roll well in your hands. Gently drop into melted chocolate and using a fork, get under the truffle and toss to coat. Scoop up the truffle with the fork and transfer to the parchment paper lined pan. Repeat.

From here you can leave as-is, but I like to have a few different flavors, so I have sprinkled some with truffle salt, some with diced walnuts and some with edible glitter stars.

Place the truffles in the fridge for at least an hour and serve.

Makes 18 truffles
*NOTES
When you buy your nut butter, make sure the nut is the only ingredient. Added oils are just silly and have no use for your nutritionally.
For the liquid sweetener, you can use maple syrup, honey, agave or coconut nectar. I typically like to use a date paste as my sweetener, but it just did not work as well in this recipe.
Video
How did this recipe work out?
Leave a Reply