Goat Cheese Stuffed Peppadews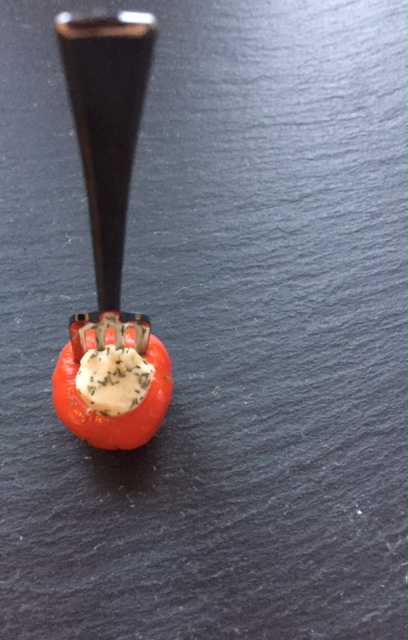 People often ask me what I miss eating since I have adopted a plant-based diet and the one thing that comes to mind is goat cheese. That pungent mouth blow coupled with the tanginess bookmarked only by the uniqueness of goat cheese is unforgettable and I think you'll like this rendition.

Now, I miss nothing.
Ingredients
Setup
3/4 cup raw and unsalted cashews
1/4 cup macadamia nuts
1/4 cup lemon juice
3/4 tablespoon unpasteurized apple cider vinegar
1/2 tablespoon yellow miso paste
1/2 teaspoon sea salt
water as needed
fresh or dried dill to taste
12 peppadews
1/4 cup pine nuts
either a pastry bag or a sealable plastic bag (like a Ziploc)
Directions
In a blender, add the cashews, macadamia nuts, lemon, apple cider vinegar and sea salt. Turn blender on low and slowly drizzle in water a tablespoon at a time. When things get moving well, speed up the blender and continue to blend until creamy. Try not to add too much water as you are aiming for a super thick and creamy consistency.
Pour the mixture to a glass container (like a mason jar) and cover with a towel. Place in a dark and dry space, such as a cabinet, for 18 hours. (This waiting process grows bacteria that is good for the gut and it also enhances that tang we enjoy from goat cheese.) Transfer to a large bowl and fold in the dill. Scoop the "cheese" into the pastry bag or plastic bag. If using a bag, snip off a very small corner. Squeezing the mixture toward the open hole, pipe the cheese to the peppadew. Sprinkle with pine nuts and place in refrigerator for 2 hours.
Serve cold.
Makes 12 deliciously awesome bites
NOTES:
After you fold in the dill you can transfer to a sealable glass container and place in fridge and pipe peppeadews later.
The dill is optional.
Finally topping the stuffed peppadews with a balsamic glaze would also rock your taste buds.
Video
How did this recipe work out?
Leave a Reply