Heart Beet Pancakes with Aquafaba Whip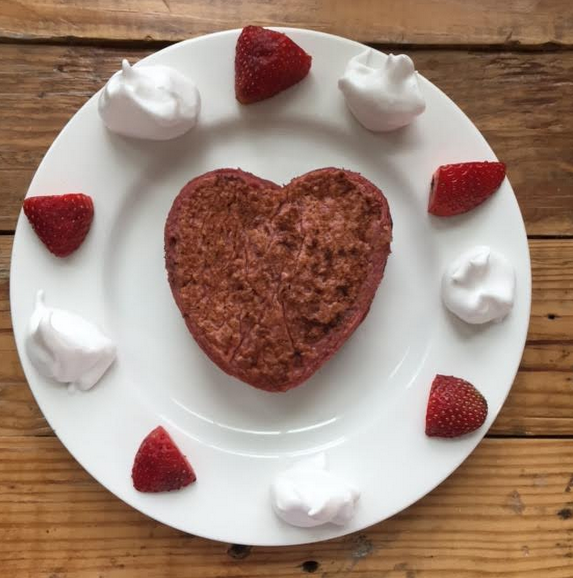 Sure these pancakes are cute; who doesn't like heart shaped food? And yes, they're pretty darn good for you, too - I've added date past for the sweetness, created a flax egg and there is no-oil! But the real kicker here is the BEETS! These little gems effortlessly increase levels of our nitric oxide which kicks out endurance up several notches, something you might want on say, Valentine's Day...
Ingredients
Setup
For the pancakes
1 tablespoon ground flax
2 1/2 tablespoons water
5-6 dates, soaked in hot water for 10 minutes
2 1/2 medium beets, peeled, roasted and chopped*
1/2 cup unsweetened almond milk
1 1/2 teaspoons vanilla extract
1 heaping tablespoon unsweetened applesauce
1/4 cup dairy-free yogurt
3/4 cup all purpose flour*
1/4 cup quick oats*
1 1/2 teaspoon baking soda
1/4 teaspoon sea salt
For the topping
juice for one 14oz can of chickpeas
1/2 (or more) of powdered sugar
2 tablespoons cream of tartar
Directions
Pancakes
Pre-heat oven to 200 degrees F.
In a small bowl or ramekin, mix the flax and the water and allow to sit for 7-10 minutes.
Remove the pits for the dates and add to the blender. Turn it on low and slowly drizzle in warm water until things get moving well. Turn it up. You are looking for a very thick paste here, the more water you add, the more diluted the sweetness becomes and you don't want that - you are looking for a really sweet paste that will stand on for any added sugars.
Transfer the date paste to a separate container and set aside.
Clean out blender and add the milk and the dates. Start the motor on slow and let it creep up to high. Keep blending until you have a nice, dark pink shade with very few red flecks from the beet. Add in the flax mixture, date paste, vanilla, applesauce, and yogurt. Blend again. Finally, add in the dry ingredients and do a slow to medium blend just until the mixture is well blended, careful to not over blend.
To a hot skillet, add a very quick spray of non-stick cooking spray.
You can make your hearts in a couple of different ways:
    1. Make regular pancakes and using a heart-shaped cookie cutter, cut the pancakes after they have cooled.
    2. Use silicone hearts and pour directly into molds. This is what I used.
Give the insides of the molds a quick spritz with the non-stick spray. Pour a little batter in each mold, just covering the surface of the skillet, do not fill up to the top of the heart mold. Bring the heat down from a high heat to a medium-high. When you begin to see a few bubbles, gently remove the mold, allow to cook for another minute or so and then carefully flip. One side will be darker than the other and that's ok.
Transfer the pancakes to a plate and keep warm in oven.
Topping
Strain the juice from the can of chickpeas and pour into a mixing bowl. Starting on low and moving to high, beat the juice until very frothy. Add in the powdered sugar and continue to beat. If it's still a little thin after 3-4 minutes at a high beat, add in another 1/8-1/4 cup of sugar. Continue to beat. Add in the cream of tartar and continue to beat another 3-4 minutes. You should be able to form peaks now.
Serve immediately.
Makes 10 pancakes
NOTES:
-I sometimes use the packaged steamed beets that are vacuumed packed found in the produce section.
-Both the flour and the oats can be changed out to gluten free.
-Pancakes can be frozen for 3-4 weeks.
-If you'd rather use a vanilla coconut cream topping, you can find that on my Carrot Cake Pancake Recipe
How did this recipe work out?
Leave a Reply