Italian Tempeh Meatballs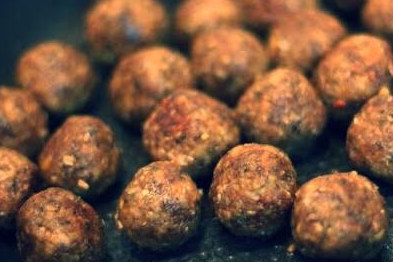 A meatball is a meatball is a meatball and anything less is, well, not. OK, fine, maybe not animal protein here, but let's be real, the plants love you more and if you're hung up on the whole texture issue (I get it!), take these little rounded bites for a spin and see who doesn't say Salute!
Ingredients
Setup
1/2 yellow onion, minced
3 TBS fresh Italian parsley, chopped fine
1 ¾ C Instant oats
2 (8 oz) PKGS tempeh, pulsed in a food processor until grated
¼ C ketchup
3 TBS Dijon mustard
4 TBS tamari (or soy sauce)
4 TBS nutritional yeast
3 TBS Italian seasoning
1 tsp browning sauce
1 tsp hot sauce
Directions
Preheat oven to 325°.
Spray a baking pan with a non-stick spray (or use parchment paper).
Saute the onions in a few tablespoons of water for about 3-5 minutes, or until translucent. Add in the parsley and all it to wilt down. Transfer to a large mixing bowl, add the rest of the ingredients and mix well. Refrigerate for 30 minutes. Scoop out mixture and roll into 1"-1 ½" balls.  Bake for about 20 minutes, turning once half way through. Plate and stick a toothpick in each one. Serve with your favorite marinara.
How did this recipe work out?
Leave a Reply