Miso and Mushroom Vegetable Soup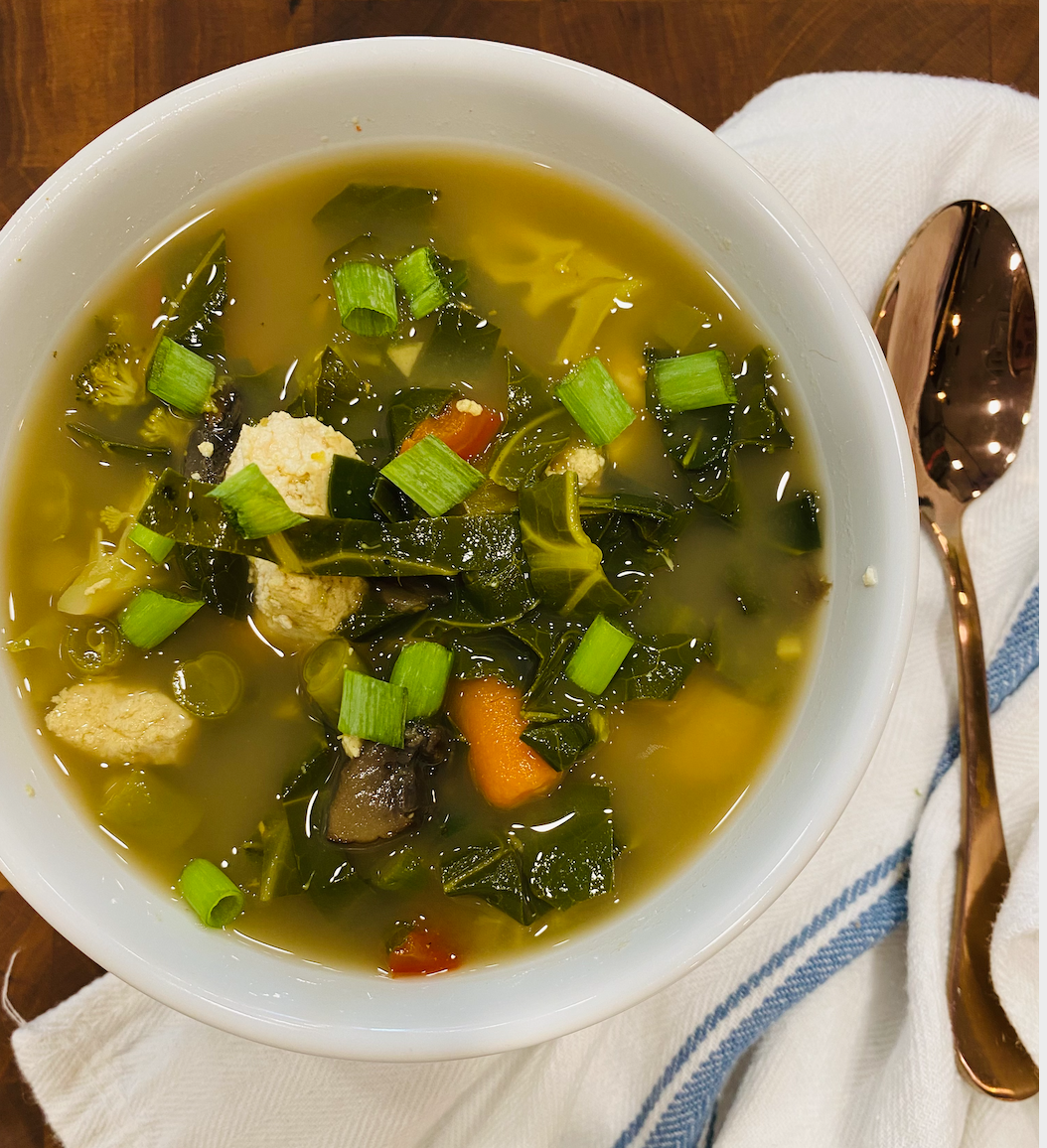 An excellent way to lose weight and gain strong health is to follow Dr. Michael Greger's Daily Dozen (it's a free app).

I created this soup with that in mind. It's very low in calories and VERY high in nutrient density! You want to boost your immune system and fit into those jeans? Here's your secret weapon.
Ingredients
Setup
    16 ounces fresh mushrooms (I did a mix of shiitakes and crimini), roughly chopped
    3 cloves garlic, minced
    1 1/2-inch piece of fresh ginger root, minced
    1/2 head broccoli, chopped to bite sized pieces
    12 ounces fresh green beans, ends popped off and remaining bean cut to 1/4-inch pieces
    4 carrots, washed (peeled if desired) and cut on bias in bite sizes
    1 orange or red bell pepper, cut to bite size pieces
    12 ounces of organic, ultra firm tofu, cut to 1/4-inch cubes
    3/4 teaspoon dried turmeric
    1/4 teaspoon freshly ground black pepper
    4 small or 2 large bunches of bok choy, green leafy parts chopped roughly
    8 cups vegetable broth
  4-6 leaves of collards, washed and cut into thin ribbons
    3 green tea bags
    2 tablespoons yellow miso
    6 green onions, slivered, for garnish
Directions
To a pre-heated stock pan, add the mushrooms and a tablespoon or so of water or broth. Bring the heat down to medium-high. Stir frequently for 3-4 minutes, until they begin to give up their juices. Add in the garlic and ginger root and stir continually for another minute. Add in the broccoli, green beans, carrots, bell pepper, tofu, turmeric and ground pepper. Stir well and allow to cook for about 10 minutes, allowing all the vegetable to soften and the flavors to marry.
Add 8 cups of broth and bring to a boil. Bring down to a simmer, add the bok choy and 3 green teabags. Simmer for 3-5 minutes. In one cup of warm water, add the miso and whisk well with a fork. Pour into soup, mix and allow to warm through for another 5 minutes
Scoop a heaping serving into bowls and garnish with green onion.
Makes about 12-14 cups.
Will freeze, but the vegetables will become overly soft. I suggest you keep in a tightly sealed container in the fridge and eat it all week long.
HEALTH NOTE:
Preparing your mise en place is always a good idea, especially in this recipe. Using Dr. Greger's Hack and Hold method, by cutting up the broccoli and allowing it to sit for 40 minutes or so, sulforaphane (an extremely effective cancer fighting compound) is created and released. Garlic too, becomes a superpower, if left to sit several minutes after being minced.
Know someone with breast cancer? Please watch this.
DAILY DOZEN: Beans  |  Cruciferous vegetables  |  Greens  |  Other Vegetables  |  Spices
How did this recipe work out?
Posted by
Bill
on
Feb 14th, 2021
What to do with Bok choy and collards? Don't see in instructions. Thanks
Posted by
caryn
on
Feb 14th, 2021
Hi Bill!
The recipe has been updated to address this. Sorry for the oversight!
Leave a Reply