No Bake Sunflower Butter Bites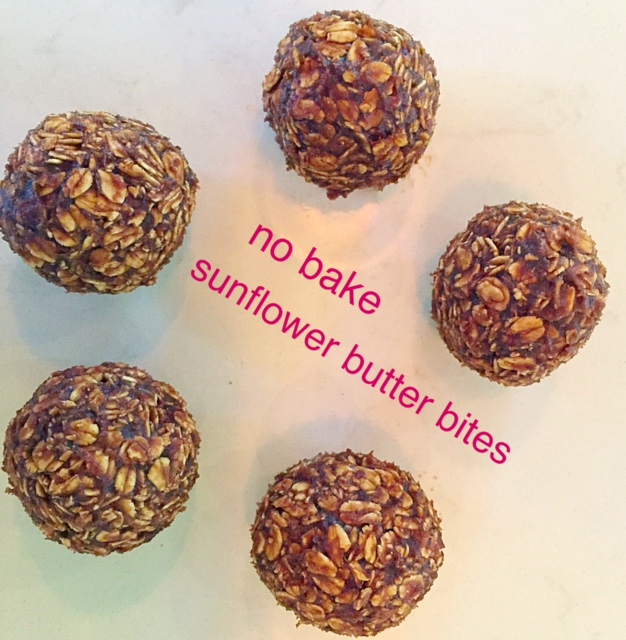 Five ingredients and no baking required?  Sign. Me. Up!
These little bites of sunshine will keep you full in between meals, qualify for breakfast and help you prep for AND recover from that workout. 
Full of fiber, protein packed not a speck of added sugar, these bites will be just what you (and the kiddos!) need during your long days.
Ingredients
Setup
4 C hulled sunflower seeds (no salt added)
2 C medjool dates
2 C rolled oats
3 TBS flax seed meal
2 TBS (+more to taste) unsweetened cocoa powder
Directions
Soak the dates in hot water for 20 minutes and the pit them.  Blend them in a food processor until they turn into a paste and set aside.
Add the sunflower seeds* to a food processor or a high speed blender and blend until they are creamy. Note that this is a long process and you'll have to scrape down the sides very often.  Resist the urge to add water or oil, the seeds are all you need, promise.  You'll go through several minutes of the seeds looking like sand but eventually the oils will release and you'll get the creaminess you are looking for. 
Add in the dates and allow the sunflower butter and the dates to become well incorporated. Add in one cup of the oats and pulse 8-10 times. Transfer the mix to a large mixing bowl and add in the remaining ingredients.  If the mix is sticking a lot to your hands, add in another 1/2C of oats.  Check for taste and adjust accordingly.
Pick off about 1"- 1 1/2" of the mix and ball up.  Place on parchment paper and refrigerate 3-4 hours (overnight is best).
*Sometimes I will roast the sunflower seeds before creating the butter.  Place seeds on a parchment paper lined jelly roll pan and roast at 300-degrees for 20 minutes, making sure not to burn them. Blend when they are still warm.
How did this recipe work out?
Leave a Reply