Pulled Pork Nachos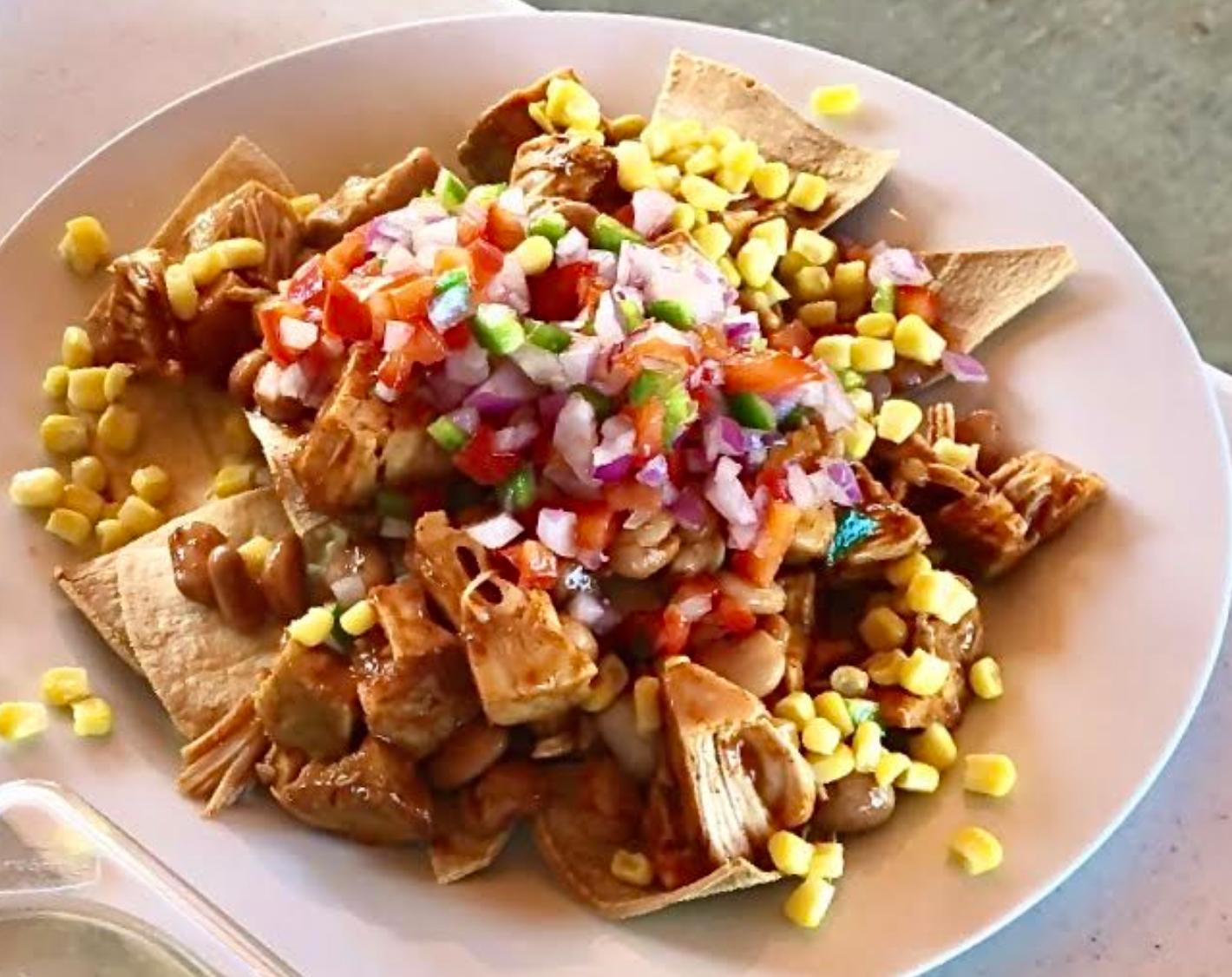 Serve these at your next party and watch them disappear! The light and sweet pico de gallo atop the messy, yummy "pork" is the perfect combination!
Ingredients
Setup
4-5 corn tortillas
1 can jackfruit, drained and rinsed
1 cup prepared BBQ sauce
1 can pinto beans, drained and rinsed
1 small red onion, diced small
½ cup corn
1 red bell pepper, seeded and diced
1/2 mango, diced
1-2 jalapenos, seeded and diced
¼ cup cilantro, chopped
¾ teaspoon cumin powder
Juice of 1 lime
salt to taste
1 avocado
Directions
Preheat oven to 450-degrees F. cut the tortillas into 6 even triangles and place them on a parchment paper lined pan. Bake for about 7-10 minutes, or until they slightly begin to brown. They will crisp up as they cool.   
Add the jackfruit and BBQ sauce to a large bowl and allow to marinate for about 15 minutes. You can choose to roughly chop the jackfruit now or shred it warms.
Combine the red onion, corn, red bell pepper, mango, jalapenos, cilantro, lime juice and salt to a bowl and set aside.
To a hot pan, add the jackfruit and the sauce. Bring the heat up so that the BBQ sauce begins to boil and then bring it down to a simmer and cover. Cook for 20 minutes. If you have not chopped the jackfruit in the beginning, now take 2 forks and pull apart the jackfruit.
Lay out the nacho chips on a platter.
Top with the jackfruit and then the pepper mixture. Garnish with avocado.
NOTE: This is such a wonderful dish without any kind of "cheese", however, if you are really missing that component on your nachos, I highly recommend my, The Best Cheesy Sauce.
How did this recipe work out?
Leave a Reply