Roasted Fruit Bruschetta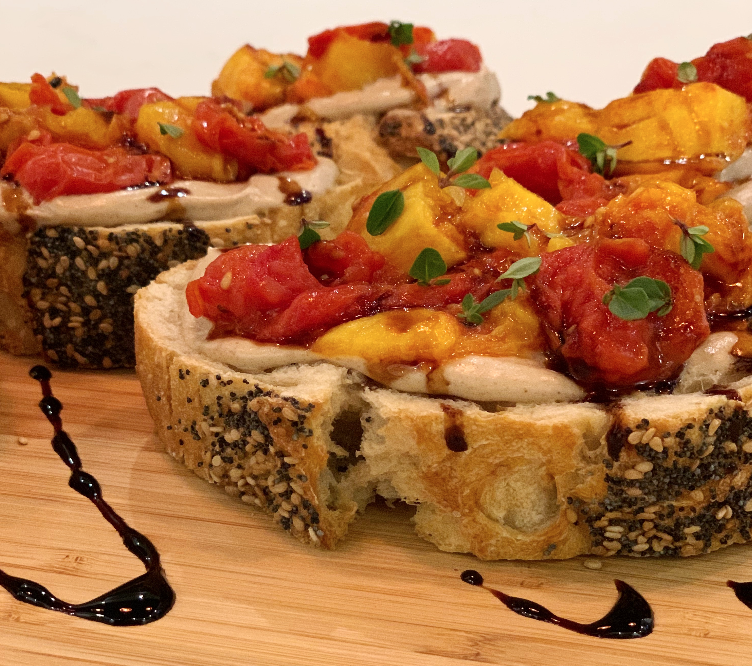 I'm OBSESSED with bruschetta and I love trying what other chefs and cooks come up with. Honestly, unsure if I would have ordered this, but as a challenge to use roasted fruit in a dish, I built this and dang it if it didn't come together beautifully.
Ingredients
Setup
FRUIT
1 cup mini tomatoes
2 mangoes, peeled and chopped to equal sizes
SWEET CASHEW CREAM
1 cup raw and unsalted cashews, soaked for 1 hour in water, drained
6 dates, pitted and soaked in water for 1 hour, drained
3/4 teaspoon vanilla extract
pinch of salt
1 cup unsweetened almond milk
THE REST
choice of bread, sliced and toasted (I used sourdough)
fresh oregano or basil
1 cup balsamic vinegar
Directions
Preheat oven to 400-F.
Line a baking sheet with parchment paper.
Add the chopped mangoes and whole tomatoes - spread them out. Bake for 20-25 minutes, until the tomatoes begin to split and the mango begins to char a bit. Transfer to a large bowl and with a fork, press the tomatoes and stir mixture well. Salt lightly if you think it needs it, stir again.
Make the balsamic reduction. Add the balsamic vinegar to a sauce pan and allow to simmer. When you can coat the back of a spoon with the syrup, turn off heat and let cool. About 30 minutes. This will thicken as it sits. The thicker/more concentrated the syrup, the stronger the flavor.
Meanwhile, add the cashews, dates, vanilla, and salt to a blender. As the blender is running, slowly drizzle in the milk. For a thicker cream, don't add all the milk, but remember, it will thicken up as it chills. Blend until very creamy. Set in fridge to chill.
Toast the bread and place it on a platter or plate. Spread cream. Spoon on the fruit mixture. Drizzle with balsamic. Garnish with herbs.
Makes 8 pieces
 If you're interested in what air fryer I'm using or how I've outfitted my kitchen here's a list!
How did this recipe work out?
Leave a Reply