Rosemary and Thyme Gluten Free Corn Bread Mini Muffins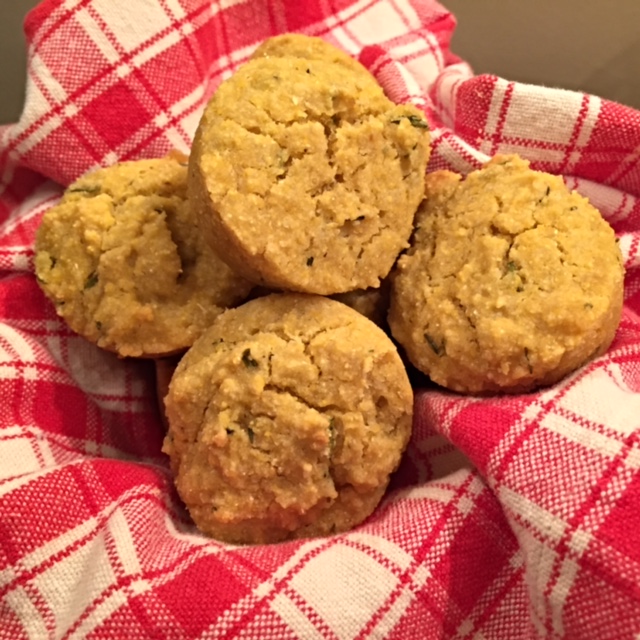 Get your nosh on with these gluten free, savory rosemary and thyme itty bittys.  A mild sweetness from the corn is met with a hint of fresh herbs that will pair nicely with just about any soup or chili you have simmering. 
Ingredients
Setup
1 C dairy free, plain and unsweetened milk beverage (cashew, almond, coconut or soy)
1 tsp apple cider vinegar
1 C corn meal, sifted
1 C gluten free flour (I recommend SunFlour by Think Eat Live), sifted
1 TBS sugar
1 tsp baking powder
1/2 tsp salt
1 TBS olive oil
2 TBS fresh rosemary, rough chopped
1.5 TBS fresh thyme, chopped
Directions
Preheat oven to 350 degrees.
In a prep bowl, whisk the non-dairy milk and the apple cider vinegar together and set aside.
In a large mixing bowl, whisk together the dry ingredients.  Create a well in the bottom and slowly add in the milk while gently mixing all ingredients together.  Add in the oil and continue to mix.  Finally, fold in the rosemary and thyme. 
Spray a mini muffin baking pan(I like this silicone model by Wilton) with a non-stick oil and fill close to the top as these do not rise much.  Bake for 20 minutes or until a dry toothpick comes out clean.
Makes 12 mini muffins or 6 full sized muffins.
How did this recipe work out?
Leave a Reply