Teriyaki Tahini Kelp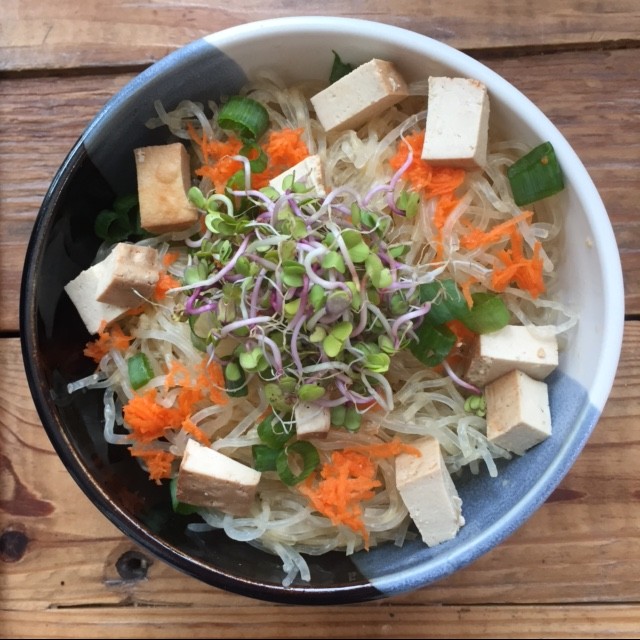 The micro-nutrient rich seafood, kelp, is sweeping in to save the day! Off the charts in nutrition density AND offering a single digit calorie count per serving, this abundant marine plant will kick up your health and help you melt away those extra lbs before summer arrives.
Ingredients
Setup
12 oz bag of kelp noodles (I like Sea Tangle brand)
1 tablespoon tahini paste
1/2 tablespoon miso paste
3/4 tablespoon low sodium teriyaki sauce
Optional toppings:
marinated and roasted tofu, cubed
cooked chickpeas
shredded carrots
sliced cucumber
sliced scallions
sprouts
sesame seeds
whatever else you can dream up!
Directions
Place the the kelp noodles in a large bowl and cover them with cold water for 7-10 minutes. I typically use kitchen shears and give the noodles a few quick cuts here to make them easier to eat.
To a small bowl, add the tamari, miso and teriyaki. Whisk well using a whisk or a fork for a few minutes. You can thin it out a little by adding a few tablespoons of water if you like.
Transfer the noodles to a colander and then to serving bowls. Pour dressing over the kelp and add any additional toppings you'd like.
Remember, the kelp noodles are extremely low in calories, so use your creative culinary license here to really make it a big, robust bowl of beautiful!
How did this recipe work out?
Leave a Reply