Vanilla Cashew Cream Broccoli Coleslaw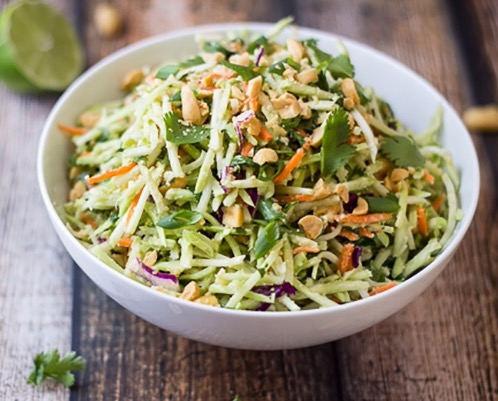 Inspired by the Polynesian Islands where vanilla is often used, this creamy cashew coleslaw pairs perfectly with the salty and sweet Pineapple Tempeh Teriyaki Slider.
Ingredients
Setup
1 C raw cashews, soaked in water for at least an hour, drained and rinsed
1/2 of one small white onion, minced
1 clove garlic, minced
juice of 1/2 lemon
1 TBS brown rice syrup or agave syrup
2 tsp vanilla
1/2 C water
sea salt, scant
ground black pepper to taste
12 oz bag of broccoli slaw
1/4 C chopped peanuts
Directions
In a high speed blender, add in all of the coleslaw ingredients from the cashews to the vanilla and begin to blend. Slowly add in the water and when you reach a creamy consistency (you might have to stop and scrape down the sides or add more water), taste, add salt and pepper, blend again and pour over the broccoli slaw. Once well incorporated, fold in the peanuts and chill before serving. Serve alongside Pineapple Teryaki Tempeh Slider
How did this recipe work out?
Leave a Reply