Vegan Soy Curl Jerky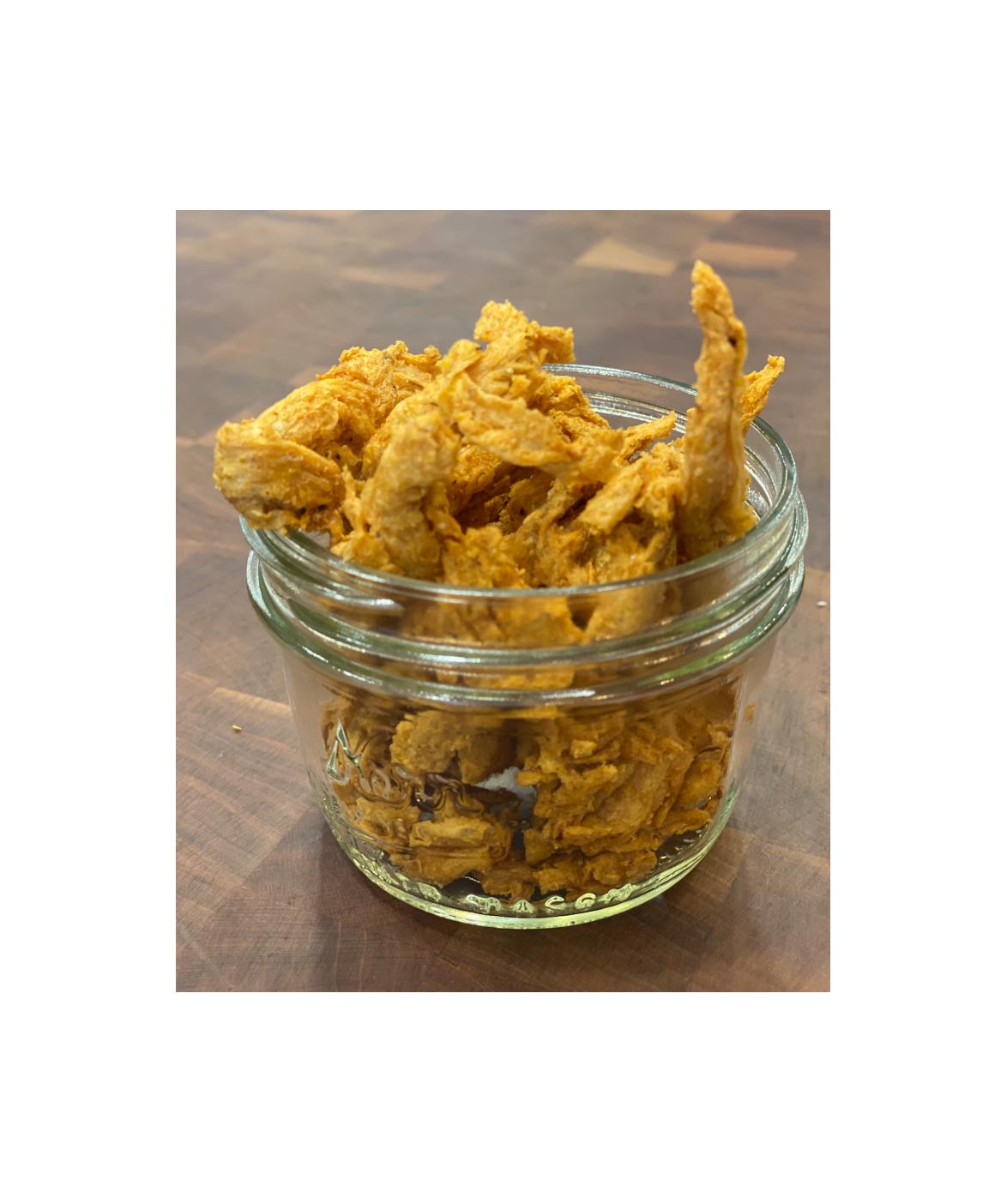 The PERFECT little snack to tide you over and avoid becoming hangry! Dig in while traveling, long road trips, have them out at parties, whatever! A little bit of tomato-y heat and that perfect jerky, chewy consistency is hard to not keep going back again and again!
Ingredients
Setup
1 8-ounce bag Butler Soy Curls
¾ cups warm water
¼ cup coconut aminos
2 teaspoons steak seasoning
1 teaspoon onion granules
1 teaspoon garlic granules
1 teaspoon tomato paste
½ teaspoon Sambal Oelek (garlic chili paste)
Directions
Place the curls in a medium sized mixing bowl.
Add all of the ingredients and mix well. Pour over the soy curls and toss with a fork every few minutes until nearly all the liquid has absorbed. It should take about 15 minutes.
Place the soy curls in a clean kitchen towel or in a cheese/nut bag and squeeze out the liquid. The seasonings will remain.
Place the soy curls in an air fryer and set to 180 degrees. Air fry for 25 minutes. Allow to cool and enjoy! Store in fridge for one week in an air tight container.
___________________________________
Some things happening at the Center for Plant-based Living:
1. You'll love our virtual membership: https://www.cpbl-stl.com/joinmembership
2. Check out our latest classes: https://www.cpbl-stl.com/classes
3. To purchase some of the kitchen tools I use https://tinyurl.com/yyacj2cg
4. To subscribe to the weekly Plant-based Quick Cooking Show (7 ingredients or less every week!): https://www.youtube.com/channel/UCExWwoBh6fvdOgghkjh0U1A?
5. Book a Private Event! We do both virtual and in-person events! Email us.
Thank you for your continued support!
Video
How did this recipe work out?
Posted by
Heather Li
on
Oct 22nd, 2021
I made these one morning thinking they would be a good snack to have on hand for the week. Well, my husband and kids gobbled them up by that afternoon. They were delicious!
Posted by
caryn
on
Oct 22nd, 2021
Heather! I'm so happy you liked them! Cheers!!
Leave a Reply