About Caryn Dugan
I love to eat. Who doesn't?
You name it and I have probably tried it. In fact, in high school, one of my friends called me the human garbage disposal. During college I shared the same diet as many other students: bar food, fast food, packaged food. Eventually I knew it was time to get on track and clean up my act. In an effort to do this, I ate mainly packaged "healthy" diet foods (you know the ones.) This made it easy to keep track of my fats, carbs and calories. After all, that's what being healthy is, right? Sometimes I'd wonder about those 26-letter words under the ingredients heading on the box, but shoot, it was only 250 calories and 2 grams of fat, so it must be healthy! You get the picture.
Why I do what I do.
Fast forward to 2008. This proved to be a pretty rotten year. I lost my dad to cancer and exactly ten weeks later, I too was diagnosed. Mourning the loss of my dad soon turned into fear and anger as I dealt with my own condition. I was so healthy — why did this happen? Luckily my treatment was quick and today I remain cancer free. However, the exceptional loss in my family coupled with my own brush with cancer sparked a drive to understand the role food, both processed and whole alike, have on our body.
An insatiable need to learn how the food we put in our body directly affects our health continues to be my quest. During reading and researching; meeting with authors, instructors and medical experts in the field of nutrition science and health, I adopted a plant-based whole foods diet. It's no secret that mainly unprocessed, real food is what our body responds to and uses to develop a strong immune system to help fight off disease and chronic illnesses.
My mission.
Today, still delving deep in continual education and always working toward the highest in certifications, I enjoy teaching plant-based culinary classes and serving my clients.  Along with making regular appearances on St. Louis TV affiliates such as Fox, CBS and NBC morning shows, I'm also demonstrating in large venues such as home shows and health immersions.  Whether you are looking to reverse an illness or take preventative measures to avoid one, looking at what you put in your body is a good place to start. The most asked question I receive is, "how do I begin?". My answer, A Plant On Every Plate. 
Studying directly under the leadership of Dr. Neal Barnard, I earned my Food For Life certification through the Physicians Committee for Responsible Medicine (PCRM) in Washington, DC. I now teach classes focusing on preventing cancer, preventing and reversing type II diabetes, children's wellness, healthy weight management and corporate wellness all through the use of nutrition.

About PCRM: Since 1985, PCRM has been influencing advancements in medicine and science. The organization advocates for preventive medicine, especially good nutrition, conducts clinical research, and advocates for higher ethical standards in research. Their membership includes 150,000 healthcare professionals and concerned citizens. PCRM is a nonprofit 501c3 organization.
As a Rouxbe Plant-Based Professional Certification Course graduate, I was taught using foundational instruction in plant-based culinary arts. With a focus on the application of core techniques in the plant-based kitchen, the experience has allowed me to explore and practice a variety of recipes and flavors from around the world.
This education has also better prepared me to not only help clients on a one-on-one manner, but also in class, corporate and large presentation settings.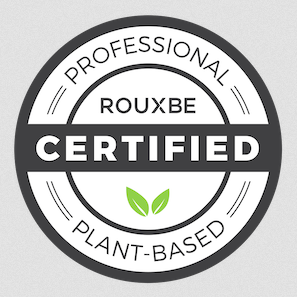 Wellcoaches trains the best health and wellness coaches in the world. Their intense training is high-impact, evidence-based and innovative. Our community of coaches are game-changers in their industries from clinical, to corporate, government and consumer well-being.
As a Certified Wellcoach®, I become an expert facilitator of mindset and behavior change that generates sustainable healthy lifestyles, which prevent or treat disease, and foster well-being and thriving. I've learned how to impact some of the toughest challenges of our times: epidemics of obesity, diabetes, sedentary lifestyles, poor nutrition, chronic stress, distracted minds, and ever-rising healthcare costs.
The Plant-based Nutrition Certificate program through eCornell is the cornerstone of all plant-based teachings and by earning this, I am now, more than ever, able to offer my clients the most current plant-based, scientifically backed, information to help them. This education, sought out by healthcare providers and other plant-based health seeking professionals, has been developed by Dr. T. Colin Campbell (co-author of The China Study) and offers the most up-to-date information on:
Dr. T. Colin Campbell's eight principles of nutritional health

The role nutrition plays in chronic disease

Impact of a whole food plant-based diet on weight loss and weight management

Common topics of concern to athletes including supplements and protein consumption

The psychological reasons we are drawn to unhealthy foods

How government and industry can affect dietary choices and the environment

The importance of healthy eating practices for child development and maternal health

Trend diet topics including: gluten-free, low-carb, vegan, paleo, etc.