Baked Avocado Wedges with Sriracha Ranch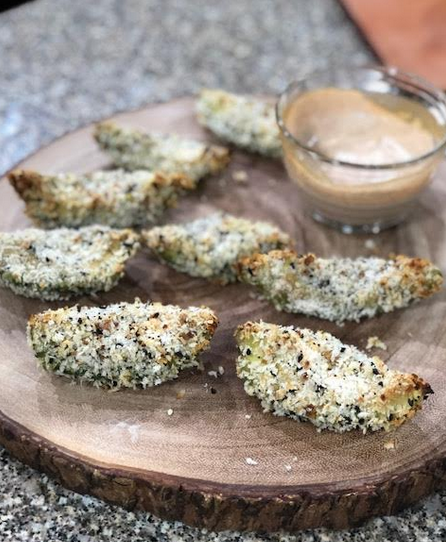 Crunchy on the outside. Creamy avocado on the inside. Dipped in a spicy ranch sauce. Is there anything better?
Ingredients
Setup
Heart Hemp Ranch
Sriracha (I like Ninja Squirrel Sriracha)
1 cup aquafaba
1 1/2 cups flour of choice (I like quinoa or garbanzo)
1 1/2 cups breadcrumbs (I use panko, gluten free is just fine also)
Several shakes of your favorite seasoning blend (I used Everything But The Bagel from Trader Joe's)
4 nearly ripe avocados
Directions
Preheat your oven to 400 - degrees F
Line a baking sheet with parchment paper.
Make the Hemp Heart Ranch and add sriracha to taste. Place in fridge to chill.
In three separate bowls add the aquafaba, flour and bread crumbs. Mix  your seasoning in to the bread crumbs.
Cut the avocado in half, length-wise, take the pit out by wacking the blade of a chef's knife (or other heavy knife) into the pit, twist and pull out. Using a spoon, scoop out the avocado flesh from the peel and place on a cutting board. Length-wise again, cut the avocado into three even wedges.
Carefully dip the wedge into the aquafaba, then into the flour, in to the aquafaba again and then into the bread crumbs. Shake off any excess crumbs and place on to the parchment lined baking pan. Repeat until you get through all of the avocados.
Bake for 20-25 minutes, until they they just barely begin to turn brown.
Dip in ranch and enjoy!
How did this recipe work out?
Leave a Reply