Kettle Cauli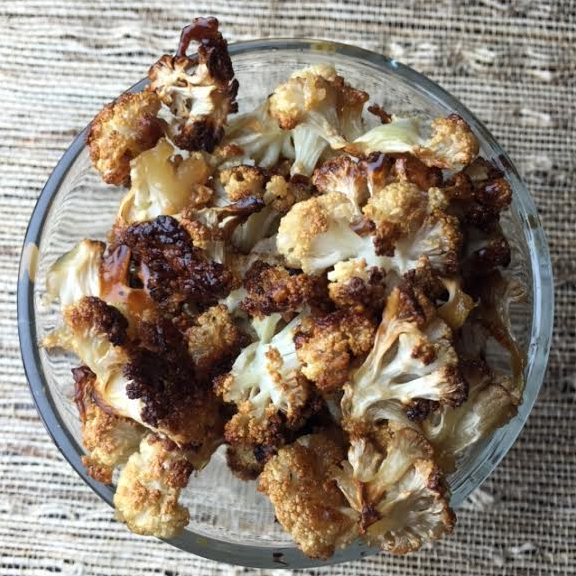 Sweet and salty, you can't deny the goodness of kettle! Try this healthier version and you won't have to.
Ingredients
Setup
1 head cauliflower
1 1/2 tablespoon coconut oil, warmed to a liquid
2 tablespoons maple syrup
1 1/2 teaspoon sea salt
Directions
Preheat your oven to 424-F.
Cut cauliflower to small bite sized pieces, a little larger than popcorn size, and place in a large bowl.
Whisk together the rest of the ingredients and pour over the cauliflower. Toss to incorporate and on a parchment lined baking pan, scoop up the cauliflower with a slotted spoon and place on pan - careful to not let the florets touch each other so they crisp up. Bake for 30 minutes, flip them around as much as you can and continue to cook another 20 minutes. Transfer the kettle cauliflower to a large plate or platter and allow it to cook and become even more crispy.
NOTE: If you find the cauliflower is not as crispy as you like (sometimes this may happen if the pieces are not cut small enough), bring the oven temp down to 275 and bake for another 45 minutes, peeking in every so often so they down blacken too much.
Serves 2
Cook time: 55 minutes
Total time: 1 hour 15 minutes
How did this recipe work out?
Leave a Reply