Mung Bean and Flax Crackers with Rosemary and Sage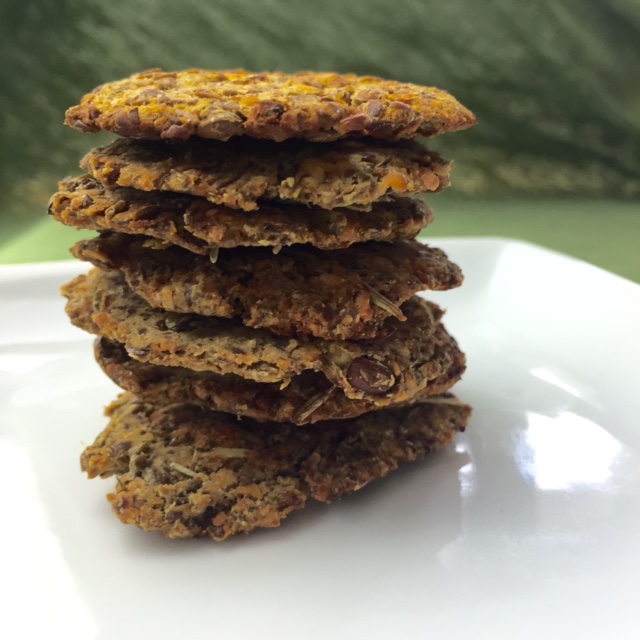 Ingredients
Setup
1 C dried mung beans
juice of 1/2 lime
2 tsp tamari
1 tsp dried minced garlic
1 tsp dried rosemary
1/2 tsp ground sage
1/2 C ground flax meal
Directions
Cook one cup of dried mung beans in 2 cups of water in a saucepan.  Bring to a boil and down to a simmer, covered, for 30 minutes. Preheat oven to 375.
Drain and transfer to a large mixing bowl and mash with a fork or transfer to a food processor and pulse a few times to mash up the beans a bit.  You don't want them pureed or creamy, just a few pulses is fine. 
In the mixing bowl with the beans, add in the lime juice, tamari, garlic, rosemary and sage.  Fold all the ingredients together.  Add in the flax and continue to gently mix. On a parchment lined cookie sheet, pick off about 1 1/2" of cracker mix, roll in between your hands and press until flat.  Place on cookie sheet and knead the mix until very thin.  Repeat until all mix has been used, you may have to make a few batches.
Bake for 20 minutes on one side.  Flip and bake for 17 minutes on the other side. Check for crispiness.
How did this recipe work out?
Posted by
Reta Dismang
on
Sep 11th, 2015
I like your recipes. But I was wondering is your recipe Mung Bean& Flax crackers are low in carbs. You use a lot of indgridents that are new to me. Where can I find the unique items that you cook with. Thanks for all your help my husband is diabetic so I'm always looking for something new and different. I love seeing you on channel 5.
Reta
Posted by
caryn
on
Sep 11th, 2015
Hi Reta,
Currently I do not run nutritional vales for my recipes, but I'm looking into that software because so many people are asking about it. The reason I originally had not offered it is because I want people to pay more attention to the INGREDIENTS and not the number of calories/fats/carbs etc... For example, you can eat a highly processed can of soup that has only 150 cal and maybe 15 g of carbs, or you can make your own with fresh ingredients that will offer a heck of a lot more nutritional bang even if it is a little higher in numbers.
Getting to you question: the mung bean offer 8 g carb per one TBS and ground flax is 2 g per TBS. As for the ingredients, I shop at your typical grocers: Dierbergs/Trader Joes/Whole Foods and sometimes the International markets such as Global and Jay's International. I aim to make dishes that use ingredients people can find anywhere in the area.
Here's a great resource for you and your husband about diabetes and a plant-based diet: http://www.pcrm.org/health/diabetes-resources
Leave a Reply