Roasted Balsamic Onions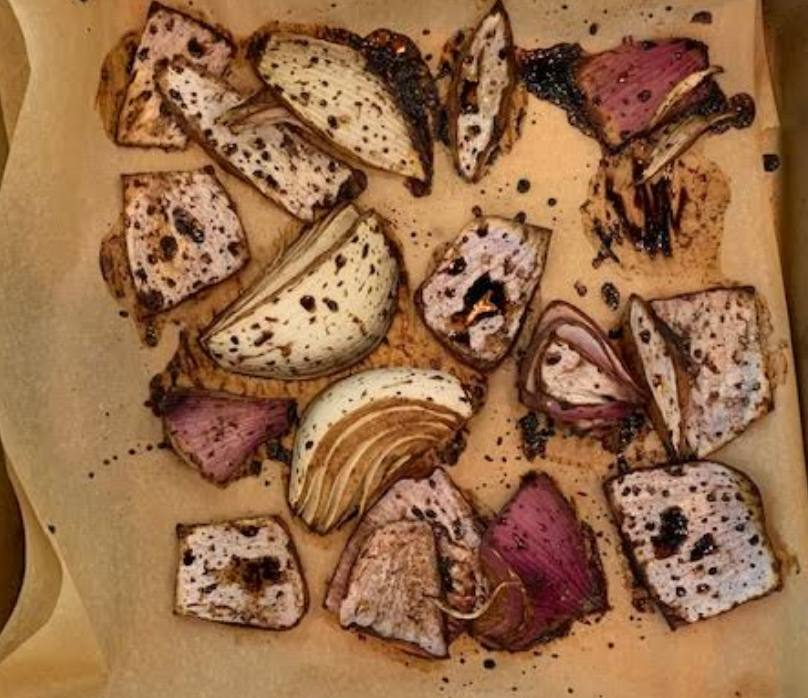 Never did you ever think onions could taste like THIS! It will be the most unsuspecting part of your next meal, and will soon become the food you crave the most!
Ingredients
Setup
1 large red onion
1 yellow onion
1/3 cup balsamic vinegar
pinch of salt (optional)

Directions
Pre-heat you oven to 400-F
Line a baking sheet with parchment paper.
Pour the vinegar into a sauce pan and over low medium heat, allow it to reduce just a smidge so that it almost becomes the consistency of a light syrup. Not too thick. This will concentrate the flavor a bit, but not be too strong as a balsamic glaze.
Cut each end of the onion off just barely - leaving it fairly round. Cut the onion into 8ths and take off the outer  most skin.
Add the onion to a bowl, drizzle on the balsamic and a pinch of salt if using.
Toss gently with your hands, coating the onion as much as you can. Try to leave several layers of the onion in tact if it is naturally doing so - no need to pull it apart too much.
Transfer to the baking sheet and bake for 37-40 minutes, or until you see a little bit of charring on the ends of the onions.
Serves 4
Here are more episodes of the Plant-based Quick Cooking Show; we hope you'll subscribe!
Video
How did this recipe work out?
Leave a Reply