Summer Salad with Hemp Ranch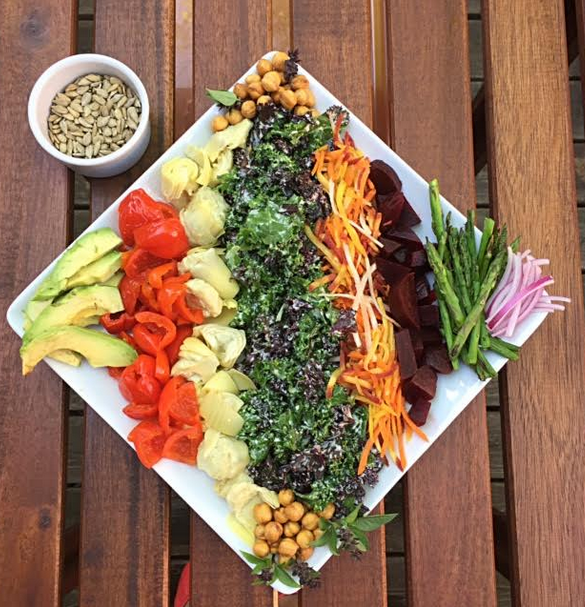 I created this salad especially for St. Louis At Home Magazine. The serving is for a party, simply vary the amount of the ingredients you think you might need for your sized crowd. I used my Hemp Heart Ranch Dressing in this and it was DELICIOUS!
Ingredients
Setup
3 bunches of organic curly kale

2 cups roasted curried chickpeas (recipe follows)

2  cups pepadews, cut into quarters

1 bunch of steamed asparagus

6-8 multicolored carrots, shredded

6 beets

2 cups artichoke hearts, quartered

1 red onion

3 avocados + one lemon

1 cup sunflower seeds

edible flowers
Directions
Preheat oven to 425-F.
De-stem the kale by holding the bottom of the stalk where the leaves end. Wrap your first finger and thumb loosely around the stalk and quickly run your hand up, tearing the leaf from the stalk.
After you have de-stemmed, take 2-3 leaves at a time and stack them on top of each other. Roll the leaves up and slice down the roll in 1/2-inch slivers. Finally, chop one time down the center. Your kale is now in ribbon-like cuts that makes it much easier for your guests to eat.
Transfer in batches to a salad spinner and then to a large bowl.
To dress the kale, drizzle 1/4 cup of the dressing on the leaves and begin to roughly massage. Really get work your hands in. You are breaking down the fibers and working the dressing in and this takes some effort. Use your own judgement on the amount of dressing you'd like to use, if it gets dry, add more. You'll find the leaves become bright green and shrink in size considerably (this is why I always buy more than I think I'll need). Chill kale in refrigerator until the rest of the ingredients are ready.
Prepare chickpeas:
Drain and rinse beans (if using canned) and transfer to a mixing bowl. Add 1/2 teaspoon of each: cumin, curry, coriander. Add a pinch of salt. Mix well and continue to season to your taste. Transfer beans to a parchment paper lined baking sheet and bake for 60 minutes, tossing every 15 minutes. Really watch them the last few minutes of cooking as you don't want to burn them.
Cut the pepadews into quarters.
Chop the rough ends off the asparagus. Cut the spears into 1/2" in pieces and lightly steam. Set aside.
Shred carrots either using the large holes on a box shredder or more easily, a food processor. Set aside.
Peel beets and chop them into quarters and then quarters again if they are large in size (you want uniform bite-size cuts.) Prepare them any way you choose, roasting or steaming. Set aside.
Drain and cut artichokes to quarters. Set aside.
Cut onion to a small dice
Cut around the oblong perimeter of the avocados and twist to open. Remove pit. Carefully make 1/4-1/2" slices in flesh barely scraping the outside peel. Make one more slice across the opposite way, and carefully scoop out with a spoon. Set in a bowl and squeeze lemon on the avocado. Toss gently to coat well. Set aside.
There are a few ways to present this.
To make the ever popular bowl, simply place the kale in a large and wide clear bowl and place the ingredients separately on top of kale. Leave some room in the middle to place the edible flowers. Set the sunflower seeds to the side for guests to add as a sprinkle on top.
To create a starburst effect, place kale in the middle of a large round platter and use the ingredients as "rays" coming off kale. Place edible flowers a top kale and set the sunflower seeds to the side for guests to add as a sprinkle on top. This is nice because guests can actually choose their ingredients.
I find most often that I am simply lining up the ingredients on a large white rectangle platter. With the kale in the middle and some edible flowers on top, I line the ingredients up tightly next to one another. Guests can again, choose their own ingredients. Leave the seeds to the side.
With all of these remember to also set out the remaining dressing for use.
How did this recipe work out?
Leave a Reply