"Bacon" Wrapped Water Chestnuts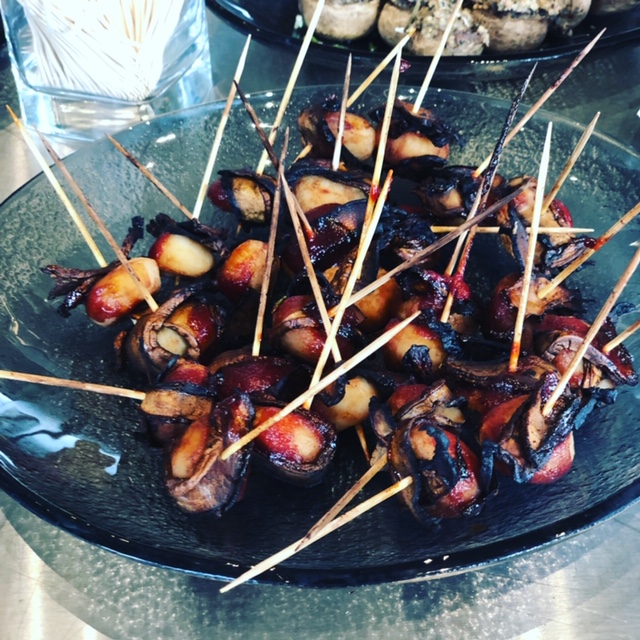 People will eye these from across the room, slyly make their way, pick one up, pop in their mouth and become wide-eyed with delight. Best party appetizer winner: you.
Ingredients
Setup
BACON
2 portobello mushrooms, stems removed and sliced into 1/8" strips
2 tablespoons coconut aminos (tamari, soy, liquid aminos also work)
1 1/4 tablespoon maple syrup
2 1/4 teaspoon liquid smoke
2 teaspoons of paprika
pinch of salt/pepper
WATER CHESTNUTS
8 ounce can of water chestnuts
1 tablespoon coconut aminos (tamari or liquid aminos are fine)
1 tablespoon of maple syrup
1 teaspoon of tomato paste
Directions
Preheat your oven to 375-degrees F.
Mix together the maple syrup, liquid smoke, paprika and salt/pepper. To a resealable bag, add the marinade and the mushrooms. Gently massage and allow to marinate 30 minutes.

Line a large baking sheet with parchment paper and lay out the mushrooms. Bake for 30 minutes.

You want them to begin to brown, but not to char. They will firm up a little as they cool. They still should be pliable enough to wrap around the water chestnuts. Mix the aminos, maple syrup and tomato paste together. Add the water chestnuts and allow to marinate for 30 minutes.

ASSEMBLE AND BAKE
Wrap 2-3 pieces of the bacon around the water chestnuts and secure with a toothpick. Place in a parchment lined baking pan. bake for 10 minutes and brush on remaining water chestnut marinade. Bake for another 12 minutes. Serve hot.


How did this recipe work out?
Leave a Reply