Caprese Salad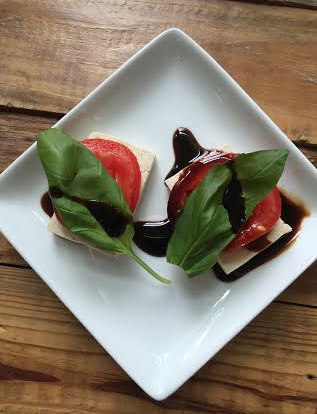 There are two sure bets with summer: fresh tomatoes and fresh basil and that yells CAPRESE SALAD! If you don't do dairy, the tofu adds the perfect consistency. The acids of the tomato, sweetness of the balsamic and earthiness of the fresh basil make this summertime staple a continual favorite.
Ingredients
Setup
Extra Firm Tofu (not silken)
Tomatoes of choice
Fresh Basil
Balsamic syrup
Directions
Cut the tofu in to 1/4" slices, length-wise horizontally. Cut vertically twice in equal parts. (This is only a suggestion, you can cut the tofu in whatever equal parts you'd like). 
Place tofu on plate, top with a tomato slice and a basil leaf.
Pour syrup on top and enjoy.
NOTE:
If you only have balsamic vinegar, you can easily make a syrup by reducing the vinegar over a stove top simmer. It may take 45-60 minutes, or until it begins to coat the back of a spoon. The thicker it becomes, the more concentrated the flavor. When you have reached the consistency you like, allow it to cool at room temprature and place in a sealed container in the refrigerator. It will last months!
How did this recipe work out?
Leave a Reply