Cauliflower Ceviche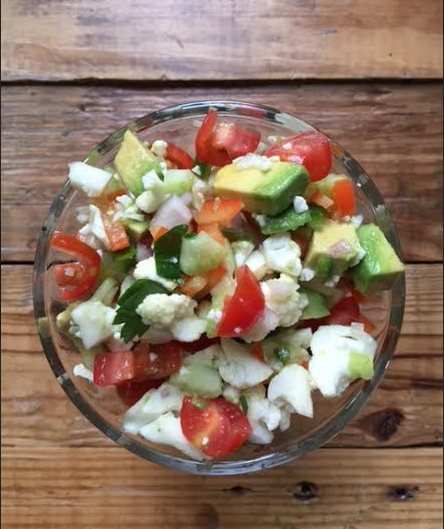 Looking for a way to use that abundance of produce your garden had offered you this late summer? This no-cook and easily adjustable vegetable ceviche is the perfect fit for the hot summertime meal you are looking for.
Ingredients
Setup
All ingredient amounts are subject to your taste and availability, however, I find it best to keep cauliflower as two-thirds of the dish with small handfuls of the other flavors adding up to the remaining one-third.
2 cups of cauliflower, cut in to roughly 1/2-3/4" pieces
cherry tomatoes, cut into 4ths
avocado, large dice
celery, sliced into 1/4" slices
red bell pepper, large dice
1 jalapeno seeded and diced
shallot, small dice
1/8 cup of Italian parsley or cilantro, leaves only & torn
pinch (or to taste) sea salt
juice of one lime
Directions
Add all ingredients to a large bowl and gently toss. Make sure all ingredients are well coated. Chill for one hour and serve. This will keep for only one day in the refrigerator.
Optional add-ins or substitutions:
roasted corn
edamame
lima beans
red onion
scallions
poblano pepper
cucumber
Adapted from Thug Kitchen
How did this recipe work out?
Leave a Reply