Cauliflower Rice Stuffed Collard Rolls with White Bean Cheesey Sauce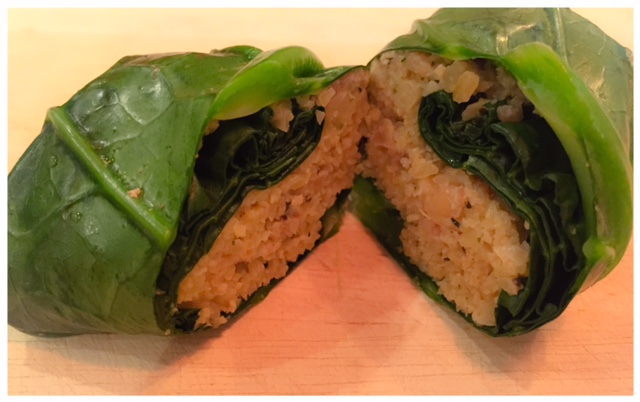 Dark leafy greens - CHECK.
Cruciferous vegetable - CHECK.
High fiber - CHECK
High protein - CHECK
Zero processed crap - CHECK
All the good stuff you hear is good for you in a tasty little package.  GLUTEN FREE/SUGAR FREE/VERY LOW FAT/LOW SODIUM
You're gonna rock this roll.
Ingredients
Setup
1 bunch of collards
1 head of cauliflower
1 14 oz can of cannellini beans (drained and rinsed)
3 TBS nutritional yeast flakes
1.5 TBS Italian seasoning (I used Trader Joes, 21 Salute)
sea salt / ground pepper to taste
Directions
Preheat oven to 350.
Fill a large enough skillet to lay a collard leaf flat and fill it with about 1/2" deep of water.  Bring to a boil.  Fill a large shallow bow with ice water and spread a clean kitchen towel out on your counter. 
Cut off the stem of the collard to where the green leaf ends.  Plane the leaf in the boiling water for 20 seconds (no more!) and with tongs, gently place in ice bath and on to the towel. Do this with each leaf and add towels as you need to so that there is only one layer of collard per towel. 
Cut cauliflower into rough pieces and place in food processor, pulse until they are the size of rice.  Spray a large skillet with non-stick spray and transfer the cauliflower rice.  Heat over a med-high flame gently flipping often.  Once it becomes slightly crunchy (it will begin to turn brown just a little bit), add in 2 TBS of nutritional yeast and 1 TBS of the seasoning. Mix to incorporate.  Add in half of the can of the beans and toss them in to skillet as well. Take off heat and transfer mixture to a large mixing bowl to cool down a bit.
Making the Cheesy Sauce:
Place the remaining beans, nutritional yeast and Italian seasoning in the food processor.  Mix until creamy (you may have to add a TBS or so of water as it is humming along). Take this sauce and scoop into a Ziploc bag and place in refrigerator.
Rolling it up:
Place a leaf in front of you horizontally.  (The leaves will all be different sizes, so the amount you stuff the leaves with will be different amounts; you'll have to play with this a bit.) Scoop some of the cauliflower rice in the middle of the leaf mainly on the spine, allowing a little bit to fall on to the green leafy part.  Pull the bottom part of the leaf up, covering the mixture, fold in the sides and roll the whole thing up - kind of like rolling a cigar. You'll have plenty of mix for all of the leaves (if you have extra, nosh away, this stuff is g-o-o-d!).
One by one place the rolls in an 8 X 8 baking pan and pour about 1/4 C water in to fill the bottom.  Cover with aluminum foil and bake for 20 minutes. 
When finished, plate up.  Grab your now chilled Cheesy Sauce and with a scissors, snip the corner off the bag to replicate a baker's pastry bag and pipe the sauce on the collard roll, decorate the plate with designs, whatever you'd like - it's your dish!
Enjoy.
Video
How did this recipe work out?
Leave a Reply