Ceviche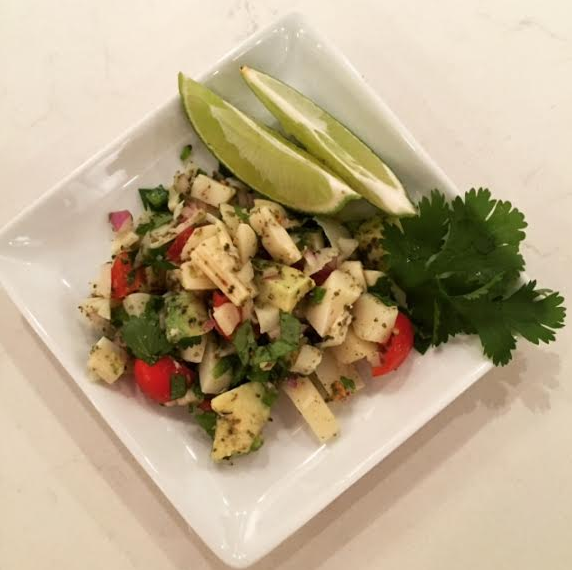 Inspired by a recent trip to Mexico, this ceviche is full of flavor & nutrients, and it keeps the fish at bay...
But, what about that light waft from the sea that traditional ceviche delivers? Easy, I've swapped the fish for hearts of palm and sprinkled in dried kelp flakes to remind you of the ocean.
Ingredients
Setup
1 14 ounce can of hearts, drained and roughly chopped
1/2 small red onion diced small
1 jalapeno pepper, de-seeded and diced
6 cherry tomatoes, quartered
1/2 avocado, diced into small cubes
2-3 tablespoons of cilantro leaves, roughly chopped
1 teaspoon of kelp flakes
juice of 1/4 lime
Directions
In a large mixing bowl, gently toss the hearts of palm, onion, jalapeno, tomatoes, avocado and cilantro. Sprinkle in the kelp, toss again. Squeeze the lime over the ceviche and give it one more fold making sure the avocado is coated as well. Chill and serve.
Health Benefits
"Why would anyone want to eat sea vegetables? Because they offer one of the broadest ranges of minerals of any food, containing virtually all the minerals found in the ocean—and not surprisingly, many of same minerals found in human blood. The also offer a variety of unique phytonutrients, including their sulfated polysaccharides (also called fucoidans). Unlike some other categories of vegetables, sea vegetables do not appear to depend on carotenoids and flavonoids for their antioxidant benefits, because in additional to these two important categories of antioxidants, sea vegetables contain several other types, including alkaloid antioxidants.Sea vegetables are an excellent source of iodine, vitamin C, manganese, and vitamin B2. They are also a very good source of vitamin A (in the form of carotenoids) and copper as well as a good source of protein, pantothenic acid, potassium, iron, zinc, vitamin B6, niacin, phosphorus, and vitamin B1." - WHFoods.com
Video
How did this recipe work out?
Leave a Reply