Cilantro Lime Tofu Skewers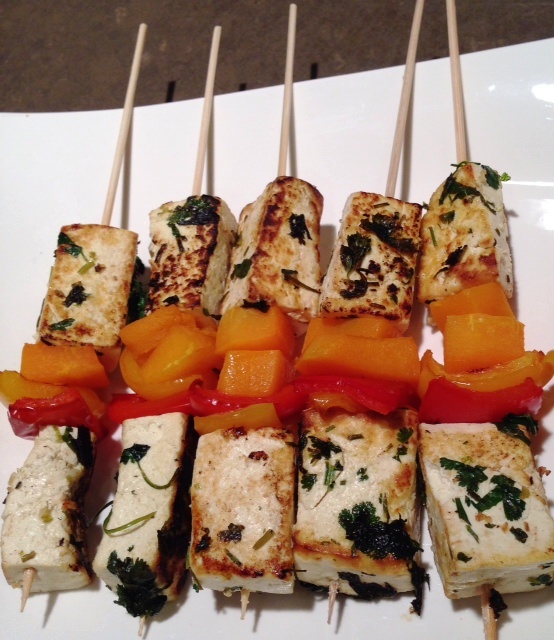 With a quick sear on all sides, the tofu sharing real estate on these skewers makes for the perfect party food. 
Ingredients
Setup
Olive oil spritz
3 red/yellow/orange bell peppers, cut into 1" bites
1 butternut squash, peeled and cubed
Sea salt
1 block of extra firm tofu, cubed
1 lime
Bunch of cilantro, minced finely
2 garlic cloves, minced
1 TBS (or less) olive oil
Skewers
Directions
Preheat oven to 350°.
On a parchment paper lined baking sheet, spread out the peppers and squash. Lightly spray with oil and dust with salt. Bake for 20 minutes, toss and continue to bake for another 20-25 minutes until they begin to brown a bit. Set aside and allow to cool a bit before handling.
While your vegetables are baking, mix together the juice and zest of the lime, cilantro, garlic and olive oil in a bowl and pour into a Ziploc bag. Gently toss the tofu in the mixture and allow to marinate for 30 minutes. Heat up a large non-stick skillet. Over medium-high heat sauté the tofu cubes until they are seared on all sides. 
Skewer the vegetables and tofu and enjoy!
This recipe can also be found in St. Louis Health and Wellness
How did this recipe work out?
Leave a Reply