Crap Free Granola Bars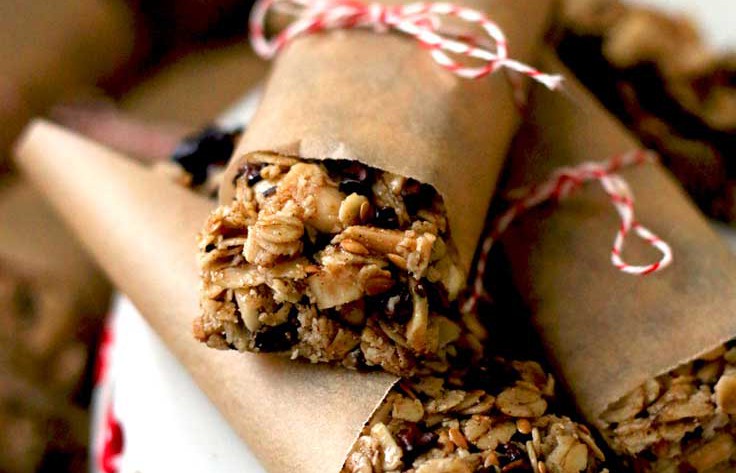 Just like the name of the recipe says, these bars are free of crap, but not free of taste.  They won't last forever like those shelf stable bars.  Why?  Because they are free of CRAP!  Listen honey, shelf stable foods shorten YOUR shelf life, so cut the crap.
Ingredients
Setup
1 ½ C quick oats
½ C dried mixed berries, chopped
¼ C non-dairy chocolate chips
2 TBS dried coconut
1 TBS chia seeds
¼ C unsweetened dried banana, chopped
2/3 C unsalted, crunchy peanut butter
½ C brown rice syrup
Directions
In a large mixing bowl, combine the oats through the chopped banana.  Add in your peanut butter and then brown rice syrup and either with a spatula or using your hands, mix all ingredients together until it is sticking together. 
Scoop mixture into an 8 X 8 dish (or some type of similar baking dish). Evenly distribute and pat down very well.  Cover with cellophane and refrigerate for four hours.  Slice and serve.
NOTES:
You can substitute almost any ingredient:
Use only the dried berries you like
don't like coconut, omit it
can use flaxseed meal in place of chia seeds
any kind of nut butter will do; nut allergy?  Use sunflower seed butter
brown rice syrup, can be subbed out for honey (not vegan), agave syrup, maple syrup
Yo can also find the recipe here in St. Louis Health and Wellness Magazine
Video
How did this recipe work out?
Leave a Reply