Creamy Dilled Tahini Sauce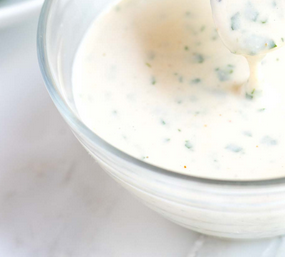 I always keep a container of this in our fridge! It's so versatile. Thin it out and it makes a great salad dressing! Keep it thick and it is a fantastic dip for veggies or a drizzle over falafel. The dill is a really great fresh touch, but you can omit that if you'd like.
Ingredients
Setup
3/4 cup tahini paste
3 large dates, pitted
1 clove of garlic
1 tablespoon fresh lemon juice
pinch of sea salt
1/4 cup water
1 tablespoon dried dill (optional)
Directions
Blend all ingredients, except the dill in a blender until smooth. Add the dill in after you reach the desired consistency and pulse the blender a few times.
Serve immediately or keep in a sealed container in the fridge. Will last for 7 days.
Makes one cup.
How did this recipe work out?
Leave a Reply