Creamy Potato Cauliflower Soup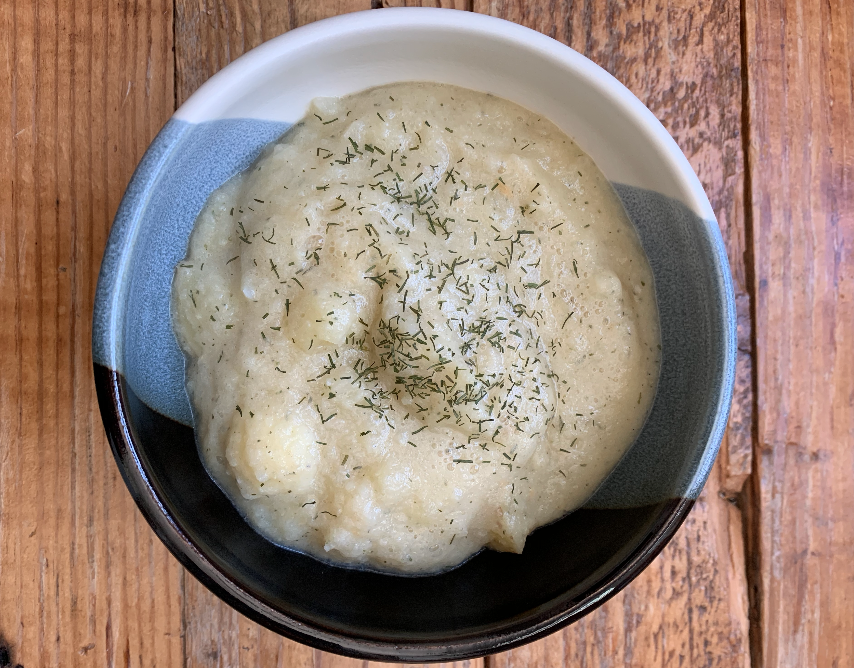 The dill makes this comforting soup pop! You'll love it!
Ingredients
Setup
1 cup brown rice
2 cups water
2 cups dairy-free milk beverage
2 1/2 cups vegetable broth
1 head of cauliflower, cut to bite-sized pieces
1 1/2 pounds Yukon gold potatoes, cut to bite sized pieces
2 teaspoons dried dill + 1 teaspoon for garnish
1 1/2 teaspoon granulated garlic
salt+freshly ground black pepper
Directions
Cook rice to package instructions and set aside.
Using a stock pot, and over high-heat, add the dairy-free milk, vegetable broth, cauliflower, potatoes, garlic and dill. Cover, bring to a boil and down to a simmer. Allow to cook for 15 minutes, until the cauliflower is soft and the potatoes are very easily pierced with a fork.
Using an immersion blender, blend until soup is creamy. Season to taste and blend again.
Alternatively, pulse the blender so that you have a 1/2 creamy, 1/2 chunky soup.
If you do not have an immersion blender, add the soup in batches to your blender. Remember that this is HOT, so do not seal the blender lid and also cover with a towel, so it does not shoot out and burn you. 
Divide the rice into bowls and ladle soup over. Garnish with dill.
Serves 4
How did this recipe work out?
Leave a Reply