Garlic and Dill Lima Beans and Rice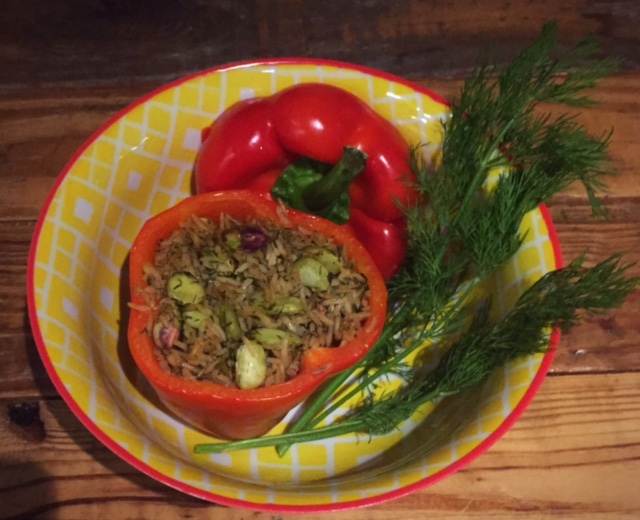 This take on a popular Persian dish is one of my favorites as I can never get enough dill! It's so fresh and screams, Spring! This is also a great way to introduce your palate to the poorly unpopular lima bean (AKA butter bean). Let's give this guy a little respect! Packed with fiber, folate, iron and protein, the delicate flavor of this bean is quite versatile and I encourage you to find some of your own favorite bean recipes and begin swapping out for the lima.
Ingredients
Setup
1 bunch fresh dill
3-4 garlic gloves, minced
6 ounces frozen lima beans
1 1/2 cups brown rice
2 1/4 cups water or vegetable broth
Handful of shelled pistachios
4 bell peppers, tops cut off to expose the inside and seeded
one lemon
Directions
Preheat oven to 400 - degrees F.
Cut the leaves off the dill and give them a rough chop. Place dill in a large bowl and add a teaspoon of fine sea salt. Mix well with your hands.
Bring a large shallow, saucepan up to medium-high heat. Add a tablespoon of water or vegetable broth* and toss in your minced garlic. Allow the garlic to cook for about 30-45 seconds and add in the lima beans and dill. Continue to cook, stirring often, for about a minute and add the rice and water/broth. Bring to a boil and down to a low simmer. Cover and allow to cook for 40 minutes. Uncover, fluff with a fork, take off heat and re-cover. Allow rice to steam for an additional 10 minutes. Fold in pistachios and scoop into bell peppers.
Place bell peppers on an oven safe dish with high sides so they don't topple. (Before this, either line the dish with parchment paper or add a few tablespoons of water, just enough to cover the bottom).
Bake stuffed peppers for 25 minutes. Squeeze just a little lemon on top, garnish with extra dill and / or nuts if you choose and serve.
*NOTE: I try to use as little oil as possible, therefore I either use broth or water, or a dry saute method when I can. If you choose to add it a little oil when you begin to saute your garlic that is just fine.
How did this recipe work out?
Leave a Reply