Hearts of Palm and Avocado Boats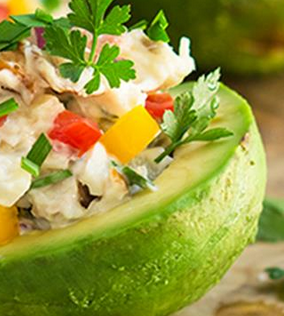 This is a great Cinco de Mayo food as it leaves one hand open for the obligatory margarita! That's only the beginning, whip this up all summer long and take it to BBQs, summertime parties, to the pool, etc. It makes a perfect light meal or needed snack just when you want to grab the chips! And- the coconut adds a nice earthiness you don't typically see in a summer salsa; it really rounds out the flavors and keeps you satiated for hours!
Ingredients
Setup
2 avocados
3/4 cup hearts of palm
4 cherry tomatoes
1/4 red onion
2 tablespoons unsweetened shredded coconut
2 tablespoons fresh cilantro leaves
1/2 lime
pinch of salt, optional
Directions
Cut the avocados in half and extract seed. Using a small knife, gently run the tip of the blade down the inside and just scraping the outside skin. Make several long, parallel cuts. Continue to cut the opposite way as well and gently scoop out the cubed pieces into a large bowl.
Dice the hearts of palm and add to bowl.
Cut the cherry tomatoes in 4ths and then in half again. Add to bowl.
Dice the onion, tear the leaves of cilantro and add to bowl.
Sprinkle in coconut, lime juice and salt, if using.  Gently fold ingredients together and scoop back into avocado shell.
How did this recipe work out?
Leave a Reply