Itty Bitty Black Bean and Sweet Potato Sliders tucked in a Zucchini "Bun"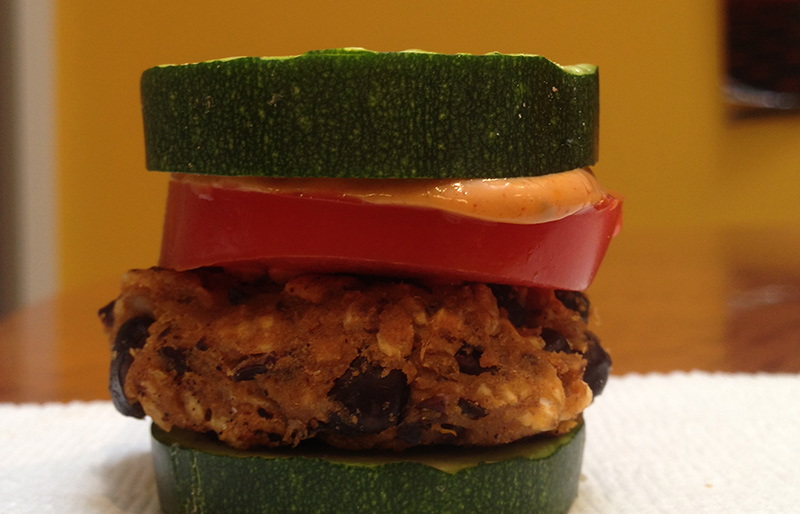 Our local FOX affiliate asked me to find new ways to add vegetables into our diet, so I created a VERY easy black bean slider and swapped out the bun for two zucchini slices. Perfect for you carb haters.
Ingredients
Setup
1 14 oz can of black beans, drained and rinsed
½ C quick cooking oats
½ C sweet potato (about one potato, cooked and the flesh scooped out)
1 heaping TBS Veganiase Chipotle Mayo (leaving more for topping later)
1 tsp sea salt
1 zucchini
Directions
In a large bowl, mash the beans through the sea salt with your hands, leaving some beans intact.  In a non-stick pan over medium-high heat, pick off a little ball of the mixture and roll in between your hands and then slightly press.   (Think of the size as if you were making a meatball and then ever so slightly press it down so that it is a mini slider.)  Sear each side of the patty until it begins to brown a little.  Slice the zucchini into ½" rounds.  Place a slider on one of the rounds, add a dollop of the mayo and top with another zucchini round.
Video
How did this recipe work out?
Posted by
Danielle
on
Oct 12th, 2014
I really don't mean to be dense, but as a novice cook, I need VERY SPECIFIC directions on what to do with the sweet potato and the quick oats. Do I bake and mash the sweet potato and mix it with the sea salt and black beans? Do the oats get precooked as well and then mixed into the patty? Per package directions, or some other way?
I may also need some specific guidance on what "quick cooking oats" are (as opposed to plain instant oatmeal, or regular oats in a jar - what exact words am I looking for on the container, and where will it be in the store? With the oatmeal? Or with the baking supplies?
Thanks!
Posted by
Candy
on
Oct 12th, 2014
Hey Stlveggirl! This recipe looks DELISH but what do you do with the sweet potato? I am clueless when it comes to cooking! Thank you veggie much! :)
Posted by
Kathy
on
Oct 12th, 2014
do you have nutrition information on each recipe?
Posted by
caryn
on
Oct 13th, 2014
Danielle-
You're not dense! Cut yourself some slack, girl!
Yes, either bake or nuke the sweet potato and then take the insides out and transfer to a bowl. As for the oats, there are rolled oats (also called old fashioned oats) and quick cooking oats. I have had better luck in the sliders sticking together if I use the quick oats. Rolled oats essentially have more of the fiber intact and take longer to cook. Do not cook the oats, put those in the same bowl as the sweet potatoes. Pulse the black beans in a food processor, mash them with a potato masher or just have fun and mash them with your hands. Add those to the bowl as well. Mix that and the other ingredients together.
TIP: after you mix all the ingredients together, put it in the fridge for about an hour and this will also help them keep their shape. Take the mixture out and then create the pattys and cook.
Posted by
caryn
on
Oct 13th, 2014
CANDY-- Cook the potato in the oven or the microwave. Then scoop out the insides and mix with the other ingredients.
KATHY - I'm sorry, I do not provide nutritional info at this time.
Leave a Reply