No Bake Chocolate Pumpkin Bites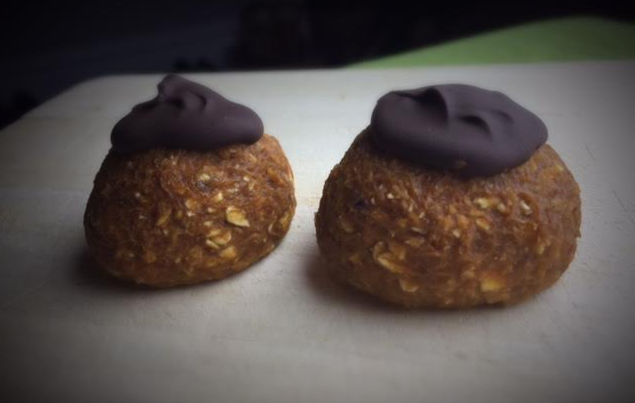 So, you're sitting around with the other parents watching the kiddos in the neighborhood in their Halloween costumes and it's all you can do to keep your own hand out of that crappy candy.
This year be prepared and make your own treat crap-free, of course....
Ingredients
Setup
2 C dates, softened in hot water for 20 minutes
1 C can pureed pumpkin
2 C whole rolled oats, divided
1.5 TBS pumpkin pie spice
1/2 tsp sea salt (optional)
1 bag of dairy free dark chocolate chips
Directions
Pit the dates and place in a food processor. Pulse a few times until they begin to break down. Add the pumpkin puree, half of the oats, pumpkin pie spice and salt if using. Continue to pulse until well integrated and slowly add the remaining oats.  Transfer the mixture to a bowl, cover and refrigerate for an hour to overnight.
When you are ready to top with chocolate, pour chocolate chips into a heat resistant bowl and place snugly on top of a saucepan with a few inches of water in it. Bring heat to low and stir chips often until melted. While you are melting the chocolate, pick off the dough little by little, roll in your hands to create a dense ball. Place on a parchment paper lined tray.
There are a couple of ways you can do this, you can either place a dollop of chocolate squarely on top or you can coat the whole darn thing. Whatever you choose, after you are finished, place the treats back in the fridge for at least 30 minutes to set up. Serve well chilled.
Makes 18 2-inch (large) bites
Makes 36 1-inch (small) bites
Video
How did this recipe work out?
Leave a Reply