Sweet Potato Glaze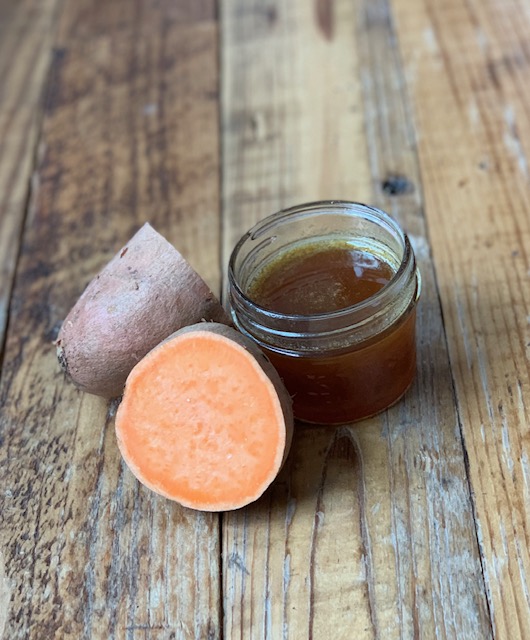 Use this Sweet Potato Glaze as a syrup on your morning pancakes, a drizzle over your Dessert Nachos a or glaze over your favorite baked goods. With it's deep rich flavor, you can enjoy knowing this sweet treat, using only one ingredient, has zero added sugars or preservatives. Score!
Ingredients
Setup
6 sweet potatoes
2 teaspoons vanilla extract (optional)
Directions
You will need:
9 X 13 baking dish
aluminum foil
2 cheese cloths or thin kitchen towels
mesh strainer
a sauce pan of equal size to fit the strainer
Preheat your oven to 425º.
Peel the potatoes and roughly chop them into large bite sized pieces. Place them in the baking dish and add 1 cup of water. Cover tightly with foil and bake for 70 minutes. Remove foil and bake for another 10 minutes.
Line the strainer with 1 cloth (I usually cut mine large enough to create two layers. Purchasing one package is enough for this entire recipe) and place it in the sauce pan. Transfer one-half of the potatoes and any remaining water into the strainer and when it is cool enough to handle, bundle up the potatoes and squeeze out the liquid and let it fall through the strainer and to the sauce pan. Once all potatoes have been squeezed, add the vanilla (if using) and simmer the liquid until it reduces by 1/4. It will thicken as it cools. The longer you allow it to reduce, the more concentrated the flavors will become.
Transfer to a glass jar and refrigerate. Will last 2-3 weeks.
Makes 1/4 - 2/3 cups, depending upon how low you allow simmering.
How did this recipe work out?
Leave a Reply