Tahini Kale Salad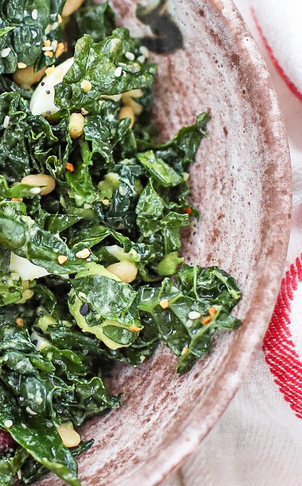 This is my favorite salad! If you have ever been in one of my cooking classes, there is no doubt you have made this, or a version of it. Everyone should have this in their recipe arsenal!
Ingredients
Setup
2 bunches of kale (Tuscan or curly), washed, stems removed (if you choose) and cut - Here's how to do that!
1/2 cup sun-dried tomatoes, not packed in oil, julienned
1/3 cup sunflower seeds
1/3 red onion, slivered
2 cups mini potatoes, cleaned and quartered
3 tablespoons balsamic vinegar
Directions
Preheat oven to 400.
Line a baking sheet with parchment paper.
Cut potatoes, place in a bowl and toss well in the balsamic vinegar. Place potatoes on baking sheet and bake for 30 minutes.
Transfer greens to a large bowl. Make the Creamy Tahini Dressing and roughly massage the dressing into the greens. Here's how to massage kale so that everyone loves it!
Plate up the greens, garnish with the sun-dried tomatoes, onions and sunflower seeds. Place potatoes around the salad.
Serves 6
How did this recipe work out?
Leave a Reply