The Best Cheesy Sauce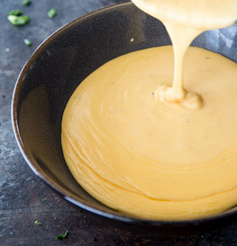 Tired of trying to get your kiddos to eat their vegetables to no avail?  Let them dip their cruciferous veggies in this pot of gold and be prepared for "more please!" Even the sauce itself is packed with nutrient dense ingredients - let them lick the bowl  --- if they get to it before you do.
Complex and decadent flavors created simply by dumping and whirrling. If you choose to use the canned butternut squash puree over roasting the squash, this amazing cheesy sauce comes together in less than 5 minutes.
Ingredients
Setup
3/4 cup cashews, soaked for 30 minutes
1 1/4 cups low sodium vegetable broth
1 cup cooked cannellini beans
1 cup cooked butternut squash -OR- 3/4 cup of canned butternut squash puree (found in the baking aisle next to the canned pumpkin)
1 1/2 tablespoons mild miso paste
3 tablespoons nutritional yeast
juice of one-half lemon
Directions
Preheat oven to 375.
Peel and cut up a butternut squash into similar sized pieces. Line a baking tray with parchment paper and bake the squash for 50 minutes. Measure out about one cup of squash to use in recipe.

Drain and rinse the cashews. Add them to a blender with the broth and blend until creamy. Add the beans, squash, miso, nutritional yeast and lemon. Blend again until creamy.
Will last 4-5 days in the fridge in a sealed container.

How did this recipe work out?
Leave a Reply