Black Bean Steak Sliders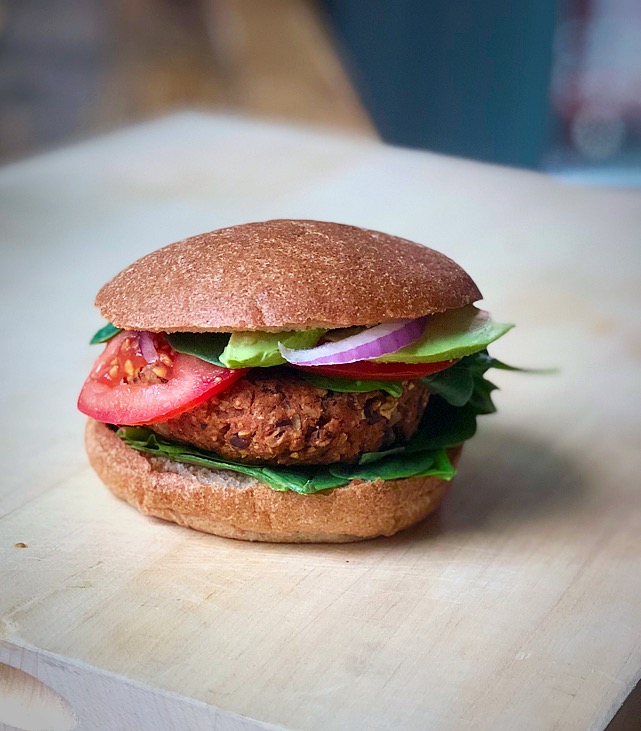 I have updated my super popular Black Bean BBQ Steak Burger so that it uses just a bit less ingredients as I really thought it would make a great addition to our weekly PLANT-BASED QUICK COOKING SHOW on YouTube. The weekly show comes out every Tuesday and every recipe is comprised of only 7 ingredients or less. Hey! I'm in the business of softening this learning curve for you and if giving you one recipe a week to help boost that kitchen confidence, I'll do it! xo
Ingredients
Setup
2 tablespoons ground flax seed
1/4 cup water
1 yellow onion, roughly chopped
2 cups gluten-free whole rolled oats
3 cups -OR- 2 14oz cans of black beans, drained and rinsed
1 6oz can tomato paste
1 ripe avocado
1 1/2 tablespoons steak seasoning (I like Penzy's Mitchell Street Steak Seasoning)
heavy pinch of both sea salt and fresh ground pepper
Directions
Combine the flax and water in a small bowl, stir well and allow to sit for 5 minutes until it thickens up.
To a hot pan, add the onion. Bring the heat down to medium and stir often. Add a tablespoon of water as needed if it begins to stick. When they begin to caramelize, transfer to a plate and set aside.
Add the oats to a food processor and pulse 3 times. Add the beans, onion and flax mixture and pulse a few more times until well integrated, but not pasty. You want to see some of the oats and beans in tact. Transfer the mixture to a large mixing bowl and add the tomato paste, avocado and steak seasoning.
Mix very well with your hands. Taste the mix and adjust for flavor. The mix should be very thick, almost a little tough to massage with your hands -that's good.
Cover bowl and refrigerate 2-3 hours to overnight.
Patty up the sliders into 12-14 patties, by picking up about a golf ball sized amount of mixture, rolling it in between your hands and gently pressing to create s small patty. Press a divot in the middle of each slider to help it warm all the way through.
There are 3 ways you can prepare these:
1. Preheat oven to 375- degrees F, line a baking sheet with parchment paper and bake for 16 minutes, flipping once
2. Pre-heat a large skillet and cook
3. Fire up the grill and cook those babies outside (my favorite!). If you choose this method, bake the burgers for 6 minutes on each side and then transfer to a grill to finish cooking.
Tip - When making burgers you need 2 things to ensure you have great grillable patties that don't fall apart:
A. the use of at least 2 binders. In this one I've used three: mashed beans, oats and 2 flax "eggs"
B. chill the mix as the temperature change helps the burgers fuse a little more.
____
Some things happening at the Center for Plant-based Living:
1. Introducing the Plant-based Academy!
Our first program: Six Weeks to Weight Loss and Maintenance: https://www.cpbl-stl.com/blog/introducing-the-plant-based-academy (begins March 2)
2. Check out our latest classes: https://www.cpbl-stl.com/classes
3. To purchase some of the kitchen tools I use https://tinyurl.com/yyacj2cg
4. To subscribe to the weekly Plant-based Quick Cooking Show: https://www.youtube.com/channel/UCExWwoBh6fvdOgghkjh0U1A?
COMING SOON – Virtual Membership.
Thank you for your continued support!
Video
How did this recipe work out?
Posted by
Diane palmer
on
Apr 5th, 2021
These are great. They held together very well. Easy recipe to follow.
thanks
Posted by
caryn
on
Apr 5th, 2021
Great to hear, Diane! Happy you liked them!
Leave a Reply