Burger Bites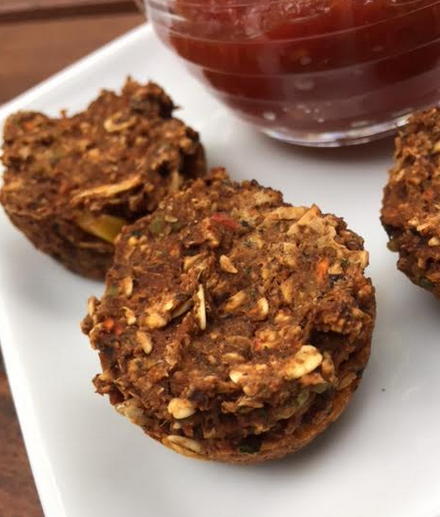 I'm putting this in the kid's file, but really, us big kids like these too. Packed with fiber, protein and veggies that will go undetected, these burger bites for little hands are always a big hit with the kiddos in our family. I hope yours like them too!
Ingredients
Setup
1 14oz. can of black beans, drained and rinsed
1 1/2 cup of whole rolled oats
1/2 cup of Trader Joe's frozen Soycatash (or any vegetable mixture), thawed
1/2 cup salsa
1 cup carrots, shredded
1 cup of baby spinach
1 teaspoon each of garlic powder, onion powder, cumin
1/2 teaspoon salt
Directions
Add all ingredients to a food processor (mine is 11 cups and I can fit in all in, you may need to do this in batches if yours is smaller). Transfer the mixture to a mixing bowl and place in refrigerator for at least an hour to over night.
Pre-heat your oven to 400-degrees F. Spray a mini muffin tin with cooking spray. Pick off golf ball size pieces of the mixture and fill the molds. Press the mixture in well. Bake for 17 minutes and allow the bites to cool a little before taking out of the mold.
Serve with your kiddos favorite condiment!
Makes 28 bites
How did this recipe work out?
Leave a Reply