Butternut Squash Risotto with Mushrooms and Spinach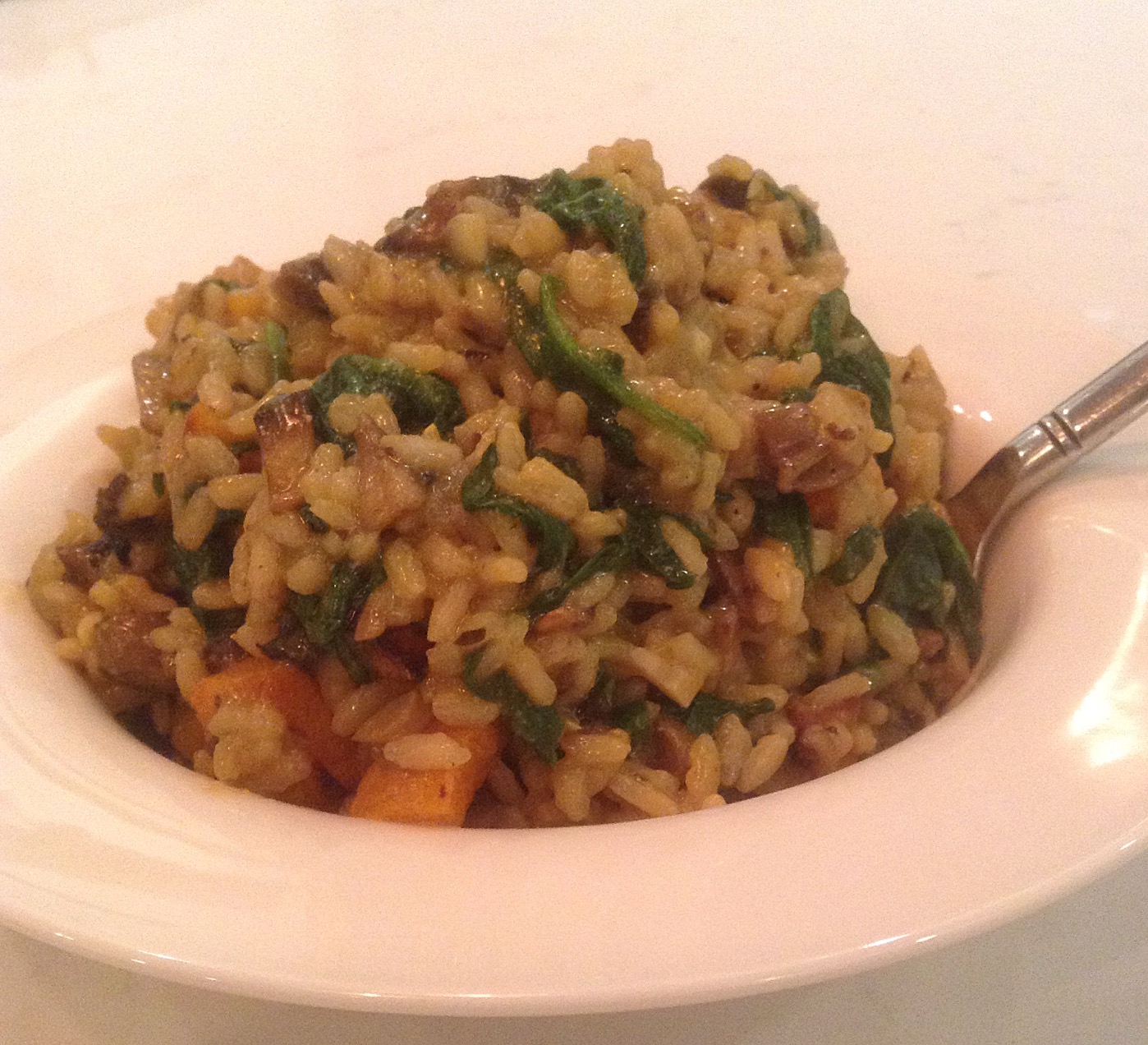 Inspired by the holiday season upon us, this butternut squash risotto is a perfect addition to your Thanksgiving table.  Let's be real, you can add this to any table, any time of the year.  By switching out the squash for say, chickpeas and swapping kale for spinach, you've just made a completely new meal! Play with spices, add in your own flavors, this dish is all yours!
Ingredients
Setup
3.5 C vegetable broth
2 C diced butternut squash (1-1.5" cubes)
olive oil spray
1 shallot,  diced
2 C mushrooms, diced
2 garlic cloves, minced
1 C arborio rice
1/2 C white wine
Sea salt/ground pepper
2 C baby spinach, washed
1/2 C nutritional yeast flakes
Directions
Preheat oven to 400°.  Line a baking sheet with parchment paper and spray squash with oil and transfer to pan.  Sprinkle salt/pepper and roast for about 30 minutes, tossing a few times during cooking.
In a large sauce pan, heat up the vegetable broth and keep it warm. 
In a separate large sauce pan over high heat, spray the pan with olive oil and saute the shallot and the mushrooms.  Cook for about 4-5 minutes and then add in the garlic. Saute Garlic only for about a minute.  Careful to not burn the garlic.  Add the rice and gently stir the mixture together.  Add in the wine and let simmer for a minute or so.  Add one ladle of broth at a time to the rice and stir.  When the rice has soaked up all the broth, add another ladle.  Do this until all the broth is gone and the rice is cooked al dente. This should take about 20 minutes or so.   
Remove the rice from the heat and fold in the spinach and the nutritional yeast. When the spinach has wilted, fold in the butternut squash. Add salt and pepper to taste.  Serve immediately.
Video
How did this recipe work out?
Leave a Reply