Cajun Grill Packs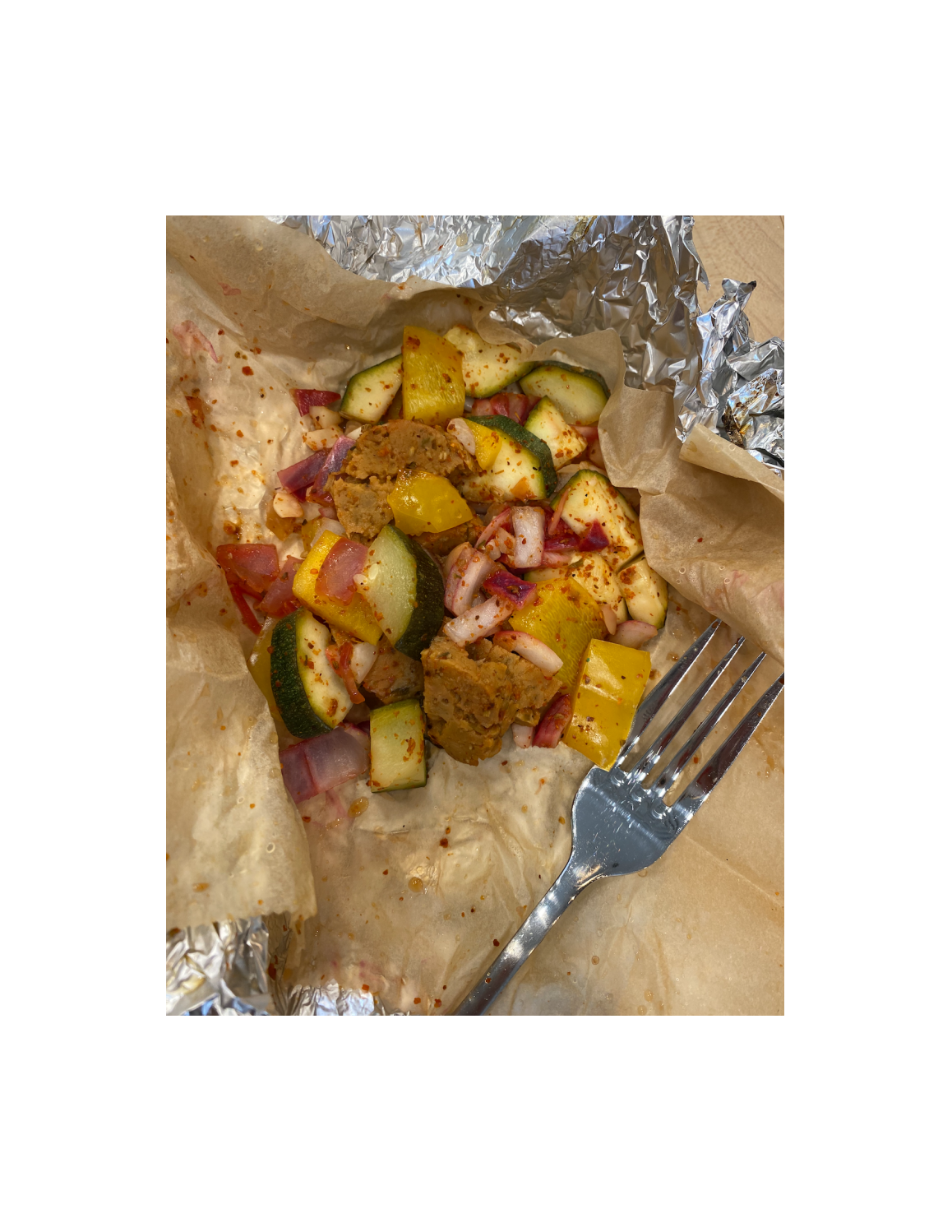 In my family it's always grilling season and this is one of the best ways I have found to lock the flavors in if you're grilling in or out! Mix up the herbs and spices however you'd  like - I love the boldness of this Cajun seasoning with with the brightness of the lemon!
Ingredients
Setup
1 cooked link of Isa's Sausage -OR- your own plant-based sausage (both cut in1/2" rounds and then quartered) -OR- one cup of cooked navy beans
1 zucchini, cut to 1/2" rounds and then quartered
1  bell pepper, chopped large
1/4 red onion, chopped large
3 cloves of garlic, minced
Juice of 1 lemon
Directions
Pre-heat grill or oven to 425.
Tear off two sheets of aluminum foil, about 12"x12"
Tear off two sheets of parchment paper to fit about the same size.
To a large bowl, add the vegetables and mix with your hands. Add the seasoning and then the lemon and toss a few more times. Divide the mixture in two and place on the parchment. Fold the sides in to seal each packet and place on a baking sheet in oven cooking, or directly on the grill.
Bake for 15 minutes. Unwrap packet and enjoy!
__________________________________________
Some things happening at the Center for Plant-based Living:
1. You'll love our virtual membership: https://www.cpbl-stl.com/joinmembership
2. Check out our latest classes: https://www.cpbl-stl.com/classes
3. To purchase some of the kitchen tools I use https://tinyurl.com/yyacj2cg
4. To subscribe to the weekly Plant-based Quick Cooking Show (7 ingredients or less every week!): https://www.youtube.com/channel/UCExWwoBh6fvdOgghkjh0U1A?
5. Book a Private Event! We do both virtual and in-person events! Email us.
Thank you for your continued support!
How did this recipe work out?
Leave a Reply