Caryn's New Summertime Burger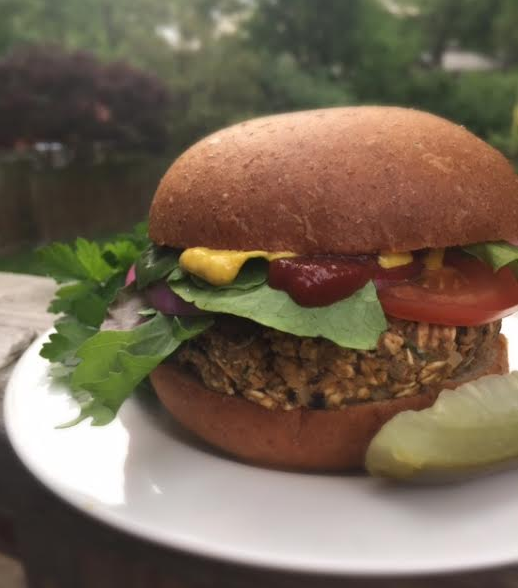 Bake it or grill it, it's up to you. This summertime burger packs some deep flavors from the mushrooms and sweet potato and the seasonings give it a kick. This burger demands respect - it's dense and delicious, yet still delivers the confidence so you can strut that pool deck. Remember, it's only veggies, yo.
Ingredients
Setup
2 1/2 tablespoons ground flax
5 tablespoons water
1 cup shredded sweet potato (one very small sweet potato)
8 oz mushrooms, roughly chopped
1/2 red onion, diced small
2 garlic cloves, minced
pinch of sea salt
1 14 oz can of black beans, drained and rinsed
1/2 cup cooked chickpeas (if from the can, drain and rinse)
1/4 cup Italian parsley, roughly chopped
2-3 green onion stalks (green part only), roughly chopped
2 tablespoons sunflower seeds
2 tablespoons dried oregano
1 tablespoon ground cumin
1/2 tablespoon paprika
1/2 teaspoon red pepper flakes (or to taste)
1/2 teaspoon sea salt
1/2 teaspoon ground black pepper
1 avocado
1 3/4 cups whole oats
Directions
Mix the flax and the water together in a small bowl and allow it to sit for 15 minutes or until it begins to become gelatinous (this will be your "egg" and act as a binder). 
Wash, but do not peel the sweet potato. Shred it by using a hand grater or run it though a food processor using the shred blade.
To a large non-stick pan, add the sweet potato, red onion and mushrooms. Over medium heat and stirring often, allow the vegetables to cook down. Once they begin to soften, add in the garlic and a pinch of sea salt. Transfer to a food processor. Add the black beans, chickpeas, parsley, green onion, sunflower seeds, spices and flax/water mix. 
To a blender, add one cup of the oats and grind down until it is a coarse flour.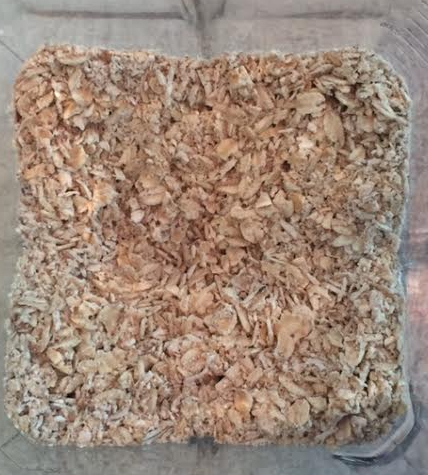 Add the flour and 1/4 of the whole oats to the food processor with the rest of the mixture.
Pulse the mixture until well mixed, but not blended or pureed.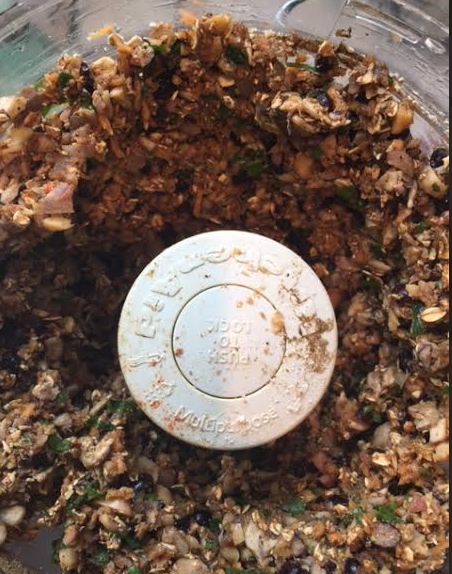 Transfer to a large bowl and add the rest of the oats and the avocado.
Mix well with your hands and taste. Adjust spices to your liking
Cover and refrigerate the mixture for an hour up to overnight.
Preheat oven to 375-F. Line a baking sheet with parchment paper.
Patty up your burgers. I made mine about 3" in diameter and 1/2"-3/4" thickness.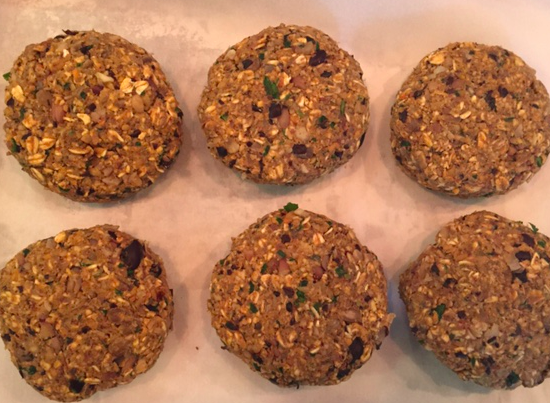 Bake for 18 minutes on one side, flip and bake for another 10 minutes.
NOTES:
These can be made into sliders or meatballs, remember you'll have to adjust your cooking time down the smaller the patty. 
You can either refrigerate the mixture or patty up the burgers and and refrigerate them, either way, be sure to cover them.
How did this recipe work out?
Leave a Reply