Chocolate Holiday Sparkle Bites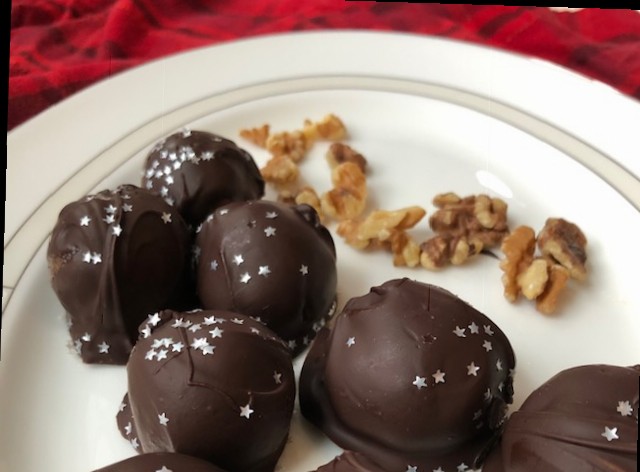 Remembering back to those holiday boxes of chocolates filled with different centers, wondering if you'll get one that you love. This is that one.
Ingredients
Setup
1 1/4 cup raw walnuts
1 1/4 cup dried cherries
3 teaspoons vanilla extract
pinch of sea salt
12 oz dairy-free dark chocolate
edible stars (optional)
Directions
Line a baking sheet with parchment paper.
Add the nuts to a blender and pulse until they are coarse. Add in the dried fruit, vanilla and salt. Blend until well integrated and it begins to stick a little bit. You don't want it pureed.
Transfer to a bowl. Pick off about 3/4" to 1 1/2" of the dough and roll into a ball. Place on the sheet. Repeat. Next, create a double boiler by adding about 4" of water to a sauce pan and snugly fitting a heat proof bowl on top. Bring the water to a slow rolling boil and add the chocolate to the bowl. Stir often. When the chocolate is nearly melted, turn off the heat and stir until all clumps are gone. One by one, dip the bites into the chocolate and using two forks, get under the bite and toss. When fully coated, scoop up the bite and slide off the fork using the other fork. Repeat. dust with stars (if using) while they are still tacky.
Place in fridge to firm up.
Makes 12-14, depending upon the size of the bites you roll.
NOTE:
Almonds can be subbed for the walnuts. Cranberries can be subbed for the cherries.
How did this recipe work out?
Leave a Reply