Chocolate Pumpkin Pie Truffles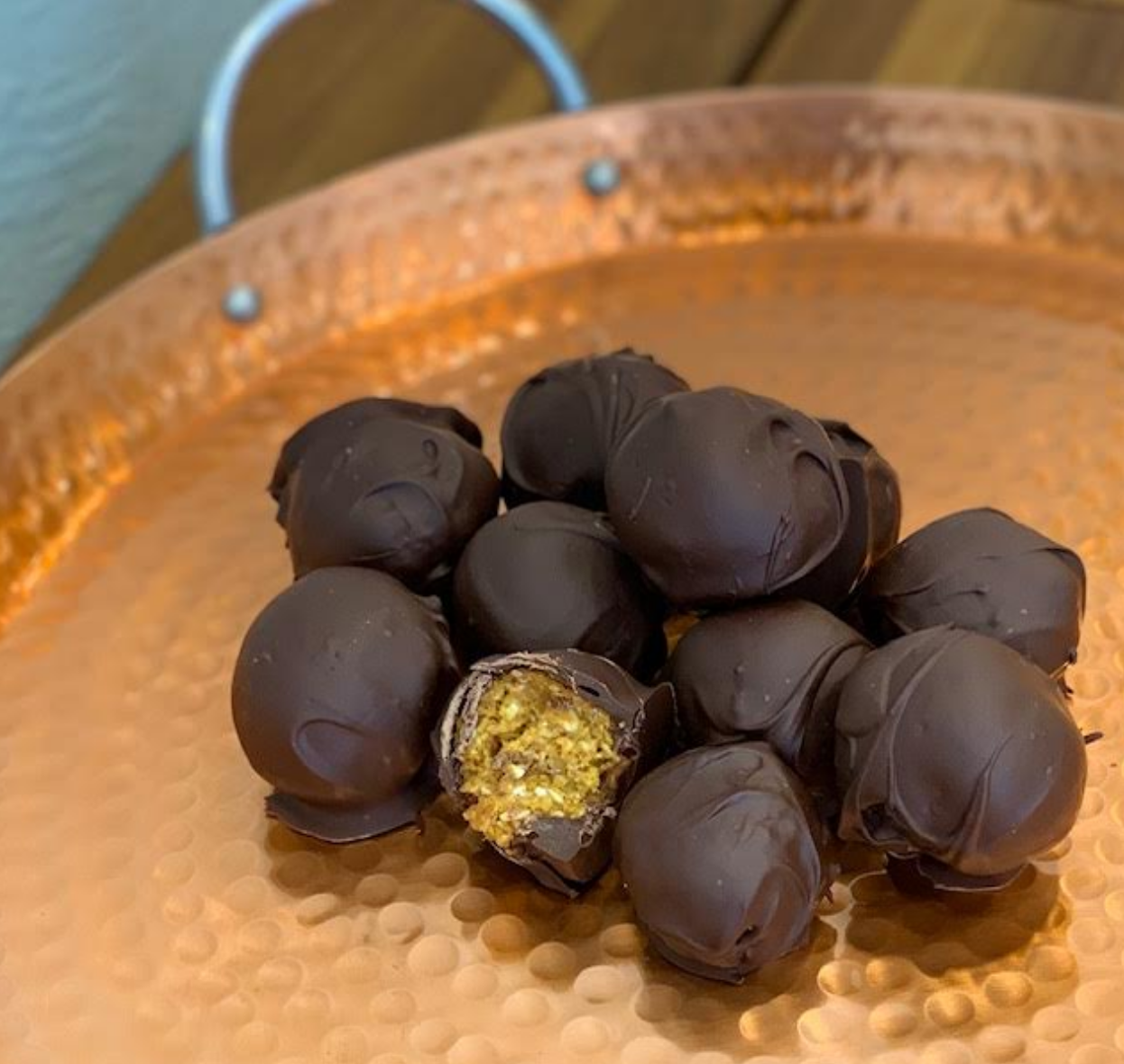 Forget the pie, take these Chocolate Pumpkin Pie Truffles to your Thanksgiving celebration! Little balls of pumpkin, vanilla and candied walnuts wrapped up in dark chocolate. More please!
Ingredients
Setup
2 cups gluten-free rolled oats
8 medjool dates, pitted
1 14 oz can of pumpkin puree
3 tablespoons peanut butter, unsalted
2 tablespoons maple syrup
1 1/2 tablespoons pumpkin pie spice
1 tablespoon vanilla extract
heavy pinch of salt
1 1/2 cups of pecans, chopped (candied pecans are really delicious, but you be the judge on this)
2 cups of dairy-free chocolate chips (I like the Enjoy Life brand)
Directions
To a food processor, add the oats and let it run for 20-30 seconds until they break down looking like quick oats. Add the rest of the ingredients, except the pecans and chocolate chips and allow it all to mix well. You may have to stop a few times and scrape down the sides.
Transfer the mixture to a large mixing bowl and fold in the pecans. Prepare a parchment paper lined pan. Pick off about 1 1/2" of the mixture and roll it into a ball. Place this on the baking sheet. Repeat. Place pan in the refrigerator for one hour.
Prepare a double boiler or create one by filling a saucepan with water and snugly fitting a heatproof bowl on to the saucepan. Do not allow the water to touch the bowl. Heat the water and place the chocolate chips in the bowl. Continually stir the chips. When smooth, remove the balls from the fridge. Drop on in the chocolate and using two forks, get under the truffle and toss it a little, covering it in chocolate. Place back on baking sheet.
When you have coated  them all, place them back into the refrigerator to harden.
Makes 36 truffles
How did this recipe work out?
Leave a Reply