Christmas Red & Green Hummus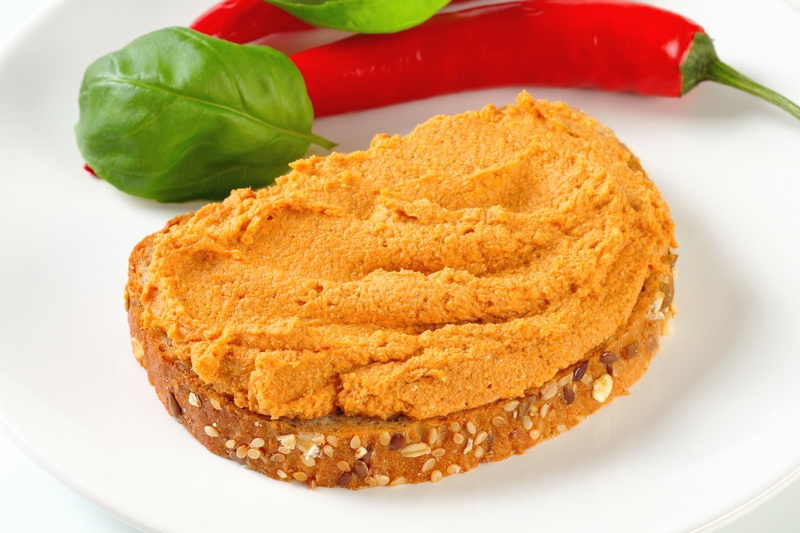 We've taken the classic oil-free STLVegGirl traditional hummus and holidazed (a word, I'm sure of it) by adding one simple ingredient to each of the two batches. Fresh basil will green up one batch and blending in roasted red peppers will give you the red holiday hue everyone will for sure scoop up. You'll be taking empty dishes home...
Ingredients
Setup
2 - 14 oz. cans Garbanzo Beans (I like Edens Brand)
¼ - ½  C vegetable broth (this will vary depending upon how thick you like your hummus)
2 cloves of garlic
2 TBS tahini paste
2-3 TBS Braggs Liquid Aminos (soy sauce/coconut liquid aminos/sea salt also work)
Juice of ½ lemon
Directions
Blend all ingredients in a blender until a smooth, thick consistency is reached.
Makes roughly three cups. Keeps well in an air tight glass container in the refrigerator for five days.
For a Christmas Party throw fresh basil leaves at the end of blending your first batch for a green colored hummus. Clean your blender well and make a second batch; towards the end of blending, add in roasted red peppers and keep adding until it begins to turn red. Place both batches in bowls, set on a tray and garnish with celery, cherry tomatoes and pita chips.
Video
How did this recipe work out?
Leave a Reply