Coconut Crusted Tofu with Ginger Garlic Sauce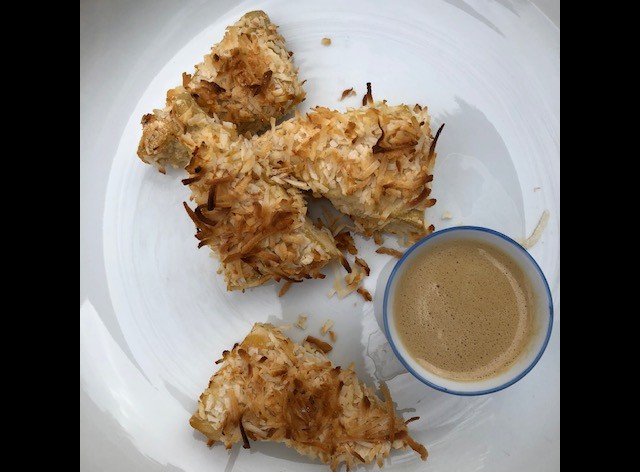 Crispy, crunchy coco-nutty tofu dunked into a creamy garlic-ginger sauce is just what you are looking for when that urge for Japanese food strikes. No deep fried grossness here! You'll love the layers of flavor (that you control!), and won't have that slothy dragginess after!
Ingredients
Setup
TOFU
1 block of ultra firm tofu (not silken)
1 cup vegetable broth (water can also be used)
1 cup of unsweetened coconut shreds
3/4 cup coconut flour
SAUCE
1/4 cup coconut aminos
2 tablespoons tahini paste
1" piece of fresh ginger root
2 garlic gloves, peeled
pinch of red pepper flakes (or to taste)
1/3 cup of water
Directions
Preheat oven to 400 degrees F. Line a baking sheet with parchment paper.
Cut your block of tofu horizontally twice so that you have three even slabs of tofu. Stack them and cut through again the opposite way. Now you have 6 squares. Cut each square diagonally. Now you have 12 triangles. in three separate bowls, fill one with your broth (or water), one with flour and one with coconut shreds. Dip each triangle of tofu into the broth, then into the four, back into the broth and finally into the shreds. place on baking sheet, repeat and bake for 25 minutes.
Blend the aminos, tahini, ginger, garlic and red pepper in a blender. While the machine is humming along, drizzle in the water tasting 1/2 through. If you like it thicker, stop here. Thinner - add more water.
How did this recipe work out?
Leave a Reply