Coconut Lentil and Tomato Vegetable Soup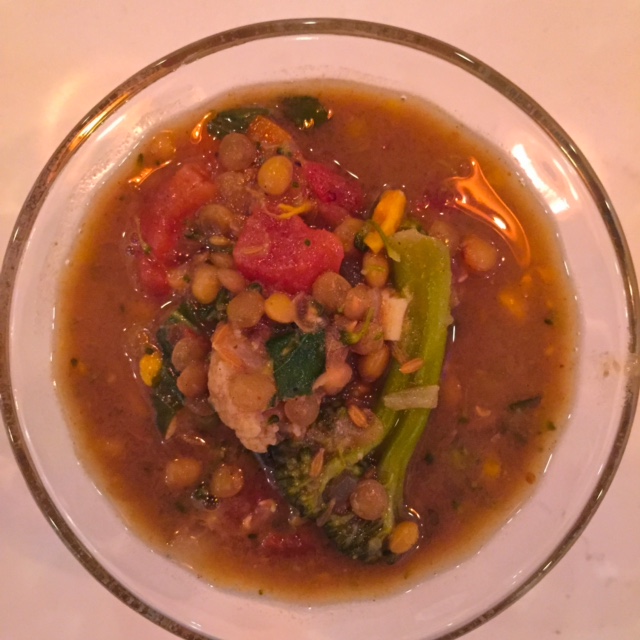 A little bit Indian, a little bit Italian, this thick soup is hearty, creamy and just plain lovely.
Ingredients
Setup
1.5 C green or brown lentils soaked in water for 4 hours
1 yellow onion
1 TBS cumin seeds
3 garlic cloves, diced small
1.5 C broccoli, chopped
1.5 C cauliflower, chopped
3 carrots, sliced into 1/4" rounds
2 C mushrooms, sliced
2 sweet potatoes, cut into 1" pieces
1 TBS tamari
1 TBS garam masala
3 tsp vindaloo seasoning
2 tsp tandori masala
2 tsp powdered ginger root
2 TBS coconut cream -OR- 3/4 C coconut milk
14 oz fire roasted tomatoes, diced
14 oz chickpeas, drained and rinsed
1 C fresh basil, rough chopped
Directions
In a pressure cooker, add 2 TBS of water and begin to saute the onions.  Once they are translucent, add in the cumin seeds and the garlic.  Allow to cook for another minute or so, stirring quickly.  Now,  add in the lentils, through the coconut cream (or coconut milk) and add in enough water so that it just barely covers the ingredients.  Bring to full pressure and cook for 10 minutes.  Engage the quick release (turn heat off) and once the lid is released, add in the tomatoes, chickpeas and basil.  Adjust to taste (I sometimes add in more coconut and tamari). Stir until all ingredients are well integrated and heated.  Serve. 
How did this recipe work out?
Leave a Reply